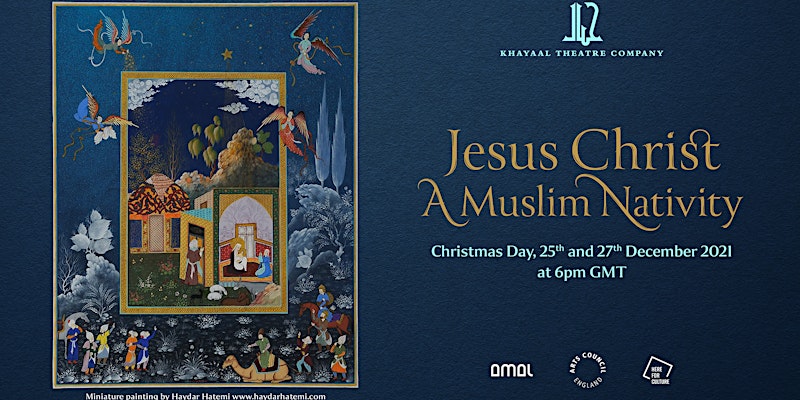 Description:
Performance storytelling of the miraculous birth, mission, and ascension of Jesus Christ (a.s.) from the Muslim tradition.
A dark night. The kingdom of a cruel king. In a sacred temple, a woman preparing for worship lights a lamp only to be startled by a much brighter light. An angel conveys the heavenly news of a blessed child. Jesus, peace be upon him.
A reverent and atmospherically rich performance of the story of the prophet known as the Spirit of God follows, from His miraculous birth to His glorious ascension to heaven.
Khayaal's Christmas storytelling offering presents an episodic account of the life of Jesus interspersed with his teachings from the Qur'an and the Bible-based on traditional Islamic and Christian sources. Performance by Eleanor Martin. Running time 40mins. Following the performance, there will be a Q&A conversation for those who wish to participate.
All proceeds go to registered charities Luton Foodbank and Khayaal Theatre.
Miniature painting promotional image by Hayder Hatemi https://www.haydarhatemi.com/
Audience responses to Muslim Nativity in 2020:
"It's a great product and she is a wonderful storyteller! It takes a real gift to keep attention with only your person and your voice. I think we could learn something about telling the story contextually from this. It was brilliant how it wove contemporary themes (and Christmas music) into the story ("Chestnuts roasting on an altar fire…"); poverty, injustice. And the haunting use of the melody of "O Come O Come Emmanuel, but contextually changed to an Islamic theme." Christian
"A belated thank you for streaming the nativity again. I watched a few times over the short time it was streaming – captivated by the performance, ambiance, and the learning from the prophetic story itself." Muslim
"Atheist household here (raised Muslim and Christian) – very much enjoyed this and value the perspective. Nice to get multiple perspectives for our child." Atheist
---
---
More upcoming events