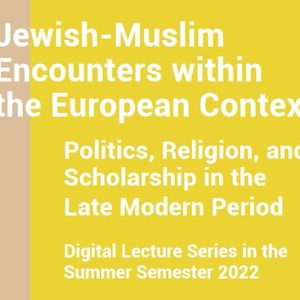 Description:
The Colony and the Village:
Jewish Memories of Hierarchical Coexistence in Ottoman and Mandate Palestine
Lecture by Liora R. Halperin (University of Washington, Seattle, WA) as part of the online lecture series »Jewish-Muslim Encounters within the European Context«
A cooperation between the Dubnow Institute and the Franz Rosenzweig Minerva Research Center in Jerusalem, this international lecture series will examine Jewish-Muslim encounters in the 19th and 20th centuries. Featuring guest speakers from various
disciplines, the series will focus on three regions: Germany, the Middle East and South Asia.
The lectures will explore different forms of cultural, intellectual and social encounters between Jews and Muslims and how they were shaped by European political, cultural, and colonial interests; shed light on the motives that drove Jewish and Muslim actors to
engage in these encounters; and discuss the role these encounters played as part of Jewish and Muslim strategies developed in response to global European influence.
The series aims at widening the current historiographical scope by bringing into the discussion different geographical locations and circumstances. It promotes a new understanding of Jewish-Muslim entanglements through a comparative approach, allowing them to be analysed more richly within their global context.
Contact and Registration
The lecture series is taking place digitally. Please register at least one day in advance to receive a link to the digital lecture room.
Please send an email to antwort(at)dubnow.de with the title of the event »Jewish-Muslim Encounters«, your name, institution (if applicable) and the email address to which we should send the link.
Program
https://www.dubnow.de/fileadmin/user_upload/PDF/Veranstaltungen/Kolloquien/Programm_FoKo_SoSe22.pdf
You may also like the following events from Dubnow-Institut:
---
---
More upcoming events