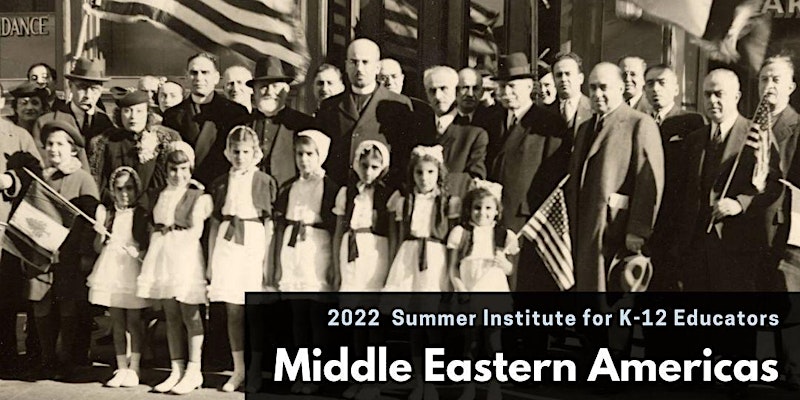 Description:
Join us for this year's Summer Institute: Middle Eastern Americas! Sponsored by the Kevorkian Center and CLACS at NYU.
The states, societies, and peoples of the Middle East have helped shape the history of the Americas for over 500 years. Despite the many sociocultural, religious, and demographic contributions of Middle Easterners in the Americas, the connection is often only acknowledged in K-12 settings in the context of contemporary conflicts, that is, terrorism, war, and sectarianism at home and abroad. This summer institute is designed to help teachers conceptualize and design ways to give richer historical and contemporary depth to the entwined histories of the Middle East and the Americas, going back to the Columbian exchange and carrying forward through the 20th century. Teachers will hear from expert scholars on topics that include: How concerns and fears about the Ottoman Empire and Islam shaped Columbus' journeys to the Americas, perceptions of the Middle East in the early American imaginary, the continuation and development of Islam amongst slave populations, and later immigrants, literary movements that stretched between the Middle East and the Americas, and cultural connections that have shaped the fabric of New York City.
The lectures and seminar sessions will be lead by distinguished scholars in the field, including Ala Alryyes (Queens College CUNY), Angela Haddad (NYU), Aisha Khan (NYU), Nora Lessersohn (UCL), Alan Mikhail (Yale), Sarah Gualtieri (USC) and Ian Nagoski (Canary Records). The institute will also feature a walking tour of historical sites relevant to the early Arab and Middle Eastern communities in New York City in Lower Manhattan led by Todd Fine (CUNY).
In addition to lectures and discussions with leading scholars, teachers will have the option to develop new pedagogical activities for their classroom under the advisement of the Institute's Academic Director, Dr. Peter Valenti. Teachers who complete the optional project will receive a stipend of $150. All teachers from the NYC area who participate are eligible for CTLE credits. Lunch will be provided for each day of the institute.
---
Location:
Hagop Kevorkian Center for Near Eastern Studies
50 Washington Square South
New York , New York 10012 United States
+ Google Map

---
More upcoming events