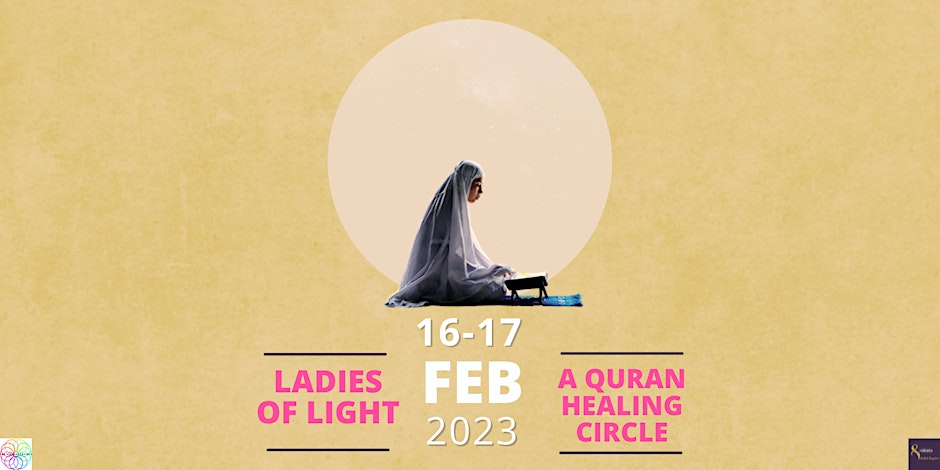 Description:
The Rabbani Project and Rabata UK Presents:
Ladies of Light: A Quran Healing Circle
Come join us as we collectively seek healing through the Quran. We invite you to a 24-hour recitation of the entire Quran, with female reciters from around the world, in dedication to the souls who have passed, those who are sick, and as a comfort to our hearts.
Last year, over 1600 women joined an international circle of Quran recitation. Each chapter (Juz) took us to a different continent, with each reciter sharing her unique recitation. At the end of the 24 hours we gathered and felt like we had just emerged from a place of serenity, beauty, and shifa. This is a Quran event that should not be missed.
Starting on Thursday 16th February at 6pm GMT and ending on Friday 17th February at 10pm GMT, we hope to create a space to recognise grief, create an opportunity for deep healing, to revive hearts through the words and sounds of the Quran, and to bring about tranquillity in our homes.
Various female reciters from across the world will lead recitation one Juz at a time and we invite you to join us, be it in recitation, or to follow with the translation, or to simply listen and be present with the Majestic words of our Lord.
Whether you join us for the entire 24 hours, or just a few moments, whether you follow along with every word of recitation, or whether you have us in the background, you are very much part of the healing. Sign up to be part of this blessed event and take part in the Baraka.
"It is a guide and a healing to the believers.." (41:44)
"And We send down of the Quran that which is a healing and a mercy to those who believe…" (17:82)
DUA LIST
We will end the circle with a dua. If you would like to add a name of a loved one to the dua then please fill in this form: https://forms.gle/4mzAcazw5mQG2VHb6
THIS IS A LADIES ONLY EVENT
This is a free event but you must register to attend.
For any queries or further details please email: [email protected]
PLEASE ENSURE YOU HAVE REGISTERED WITH A CORRECT WORKING EMAIL. THE EVENT ZOOM LINK, PROGRAMME, AND FURTHER DETAILS WILL BE SENT TO YOUR EMAIL ADDRESS AT A LATER DATE.
---
---
More upcoming events