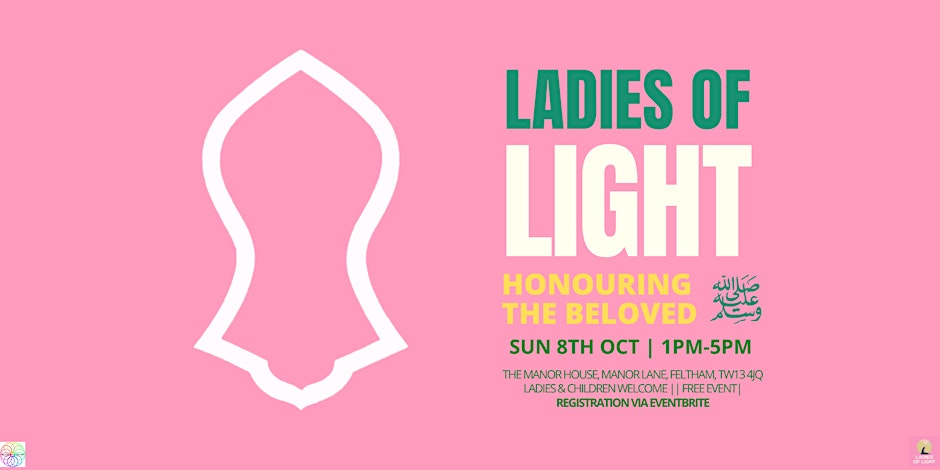 Description:
The Rabbani Project Present:
Ladies of Light : Honouring The Beloved (peace be upon him)
When: Sunday 8th October
Time: 1pm to 6pm
Where: CSCA Centre, Manor Lane, Feltham, TW13 4JQ
Join us for a gathering of light ! A full day programme with guest teachers, reciters, poets, singers and drummers from all over the UK celebrating and remembering the life of our beloved Prophet Muhammed (peace be upon him).
Tickets
We do not want to turn anyone away from such a gathering and hence have made tickets free so that everyone is able to benefit.
However, this event has been organised by a *very* small group of volunteers and at the generosity of many wonderful guests above. We would love to be able to cover the costs of running the event itself. If you are able to donate £10 towards the event and the CSCA Centre please consider doing so.
WEAR GREEN OR WHITE
Ladies and Children are welcome
Any questions or queries please email: [email protected]
————————————————————————————————
Ladies of Light is a space dedicated to the Muslim Woman. It is a space of gathering, learning, connecting, receiving, and celebrating joy. To have a strong grounding and understanding of our rich history as Muslim women. To learn about the lives and stories of the Ladies of Light that came before us; to see examples of female lovers of God. It is a space of honoring the female of faith and being inspired and moved to be the best version of ourselves that we can be.
A platform to nourish and encourage creativity. To ignite the creativity that is within us all. To use creativity as a tool of connecting us back to the Divine. A space for healing connection and reflection in a non-judgmental and open environment
We have a series of different events, workshop retreats that take place throughout the year. Some of our most popular projects have been the Ladies of Light: Quran Healing Circle an online 24 hours recitation of the entire Quran with reciters from around the globe. Ladies of Light Honouring the Beloved ( pbuh); An entire day of learning about the life of the Prophet Muhammed ( pbuh) with female scholars, Quran reciters, and artists. Ladies of Light retreats; weekends away learning about the female companions of the Prophet Muhammed ( pbuh) while praying, eating, and singing together with your fellow sisters, Ladies of Light Workshops; an opportunity to pick up a creative skill such as drumming, geometry singing, Herbal medicine making and much more and our Ladies of Light Teen Camp.
www.therabbaniproject.com
---
Location:
CSCA Sunni Feltham Mosque Feltham Masjid
Manor Lane
Feltham , TW13 4JQ United Kingdom
+ Google Map

---
More upcoming events