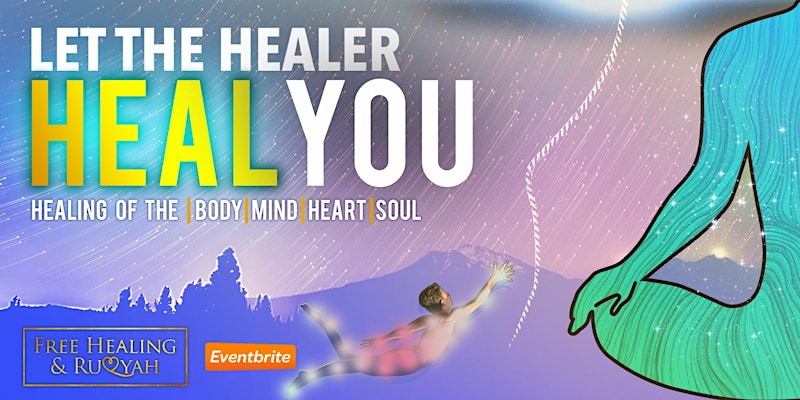 Description:
Healing of the Body | Mind | Heart | Soul – Travel Towards the Healer Himself
Free Spiritual Healing & Ruqyah Session
To all those Suffering from Physical pain, Sadness, Bereavement, Depression, or Distress by Spiritual ailments, Know that you do not need to Suffer Alone or in Silence.
The Qur'ān is the actual word of Allāh, which has been revealed to the Prophet ﷺ not only as Guidance for all Mankind but Allāh has also made it a Spiritual Cure and Healing for all types of ailments; such as to Expel Demons, Black Magic and Evil Eye.
We must understand that the Qur'ān benefits us in Every Aspect; Socially, Economically, Spiritually, and Physically.
Event:
During this Healing Session you will be Taught:
About The True Effects of Black Magic & Evil Eye
A Prescription for a Broken Heart, Aching Body, Stressed Mind, Spiritual Trauma
First Aid Kit from the Divine
Prevention is Better than Cure
Understanding The Only One True Healer is | God Almighty
Allah Will Save You
Understanding the Power of Allah compared to your illness and Troubles.
Collective Healing Session
An opportunity for 1-2-1 Consultations with a Practitioner
On The Day:
Venue | Noshahi Kashmir Civic Centre, 279-285 Coventry Rd, Small Heath, Birmingham, B10 0RA, United Kingdom
Date | Saturday 11th December 2021
Time | 6pm-8:30pm UKT (Doors Open from 5:30pm)
Virtual Attendees | Broadcasting Live on Zoom (details will be shared prior to the event)
The Healing Sessing will be delivered in English, but for 1-2-1 Assessments and Consultation our Practitioners can facilitate support in English, Urdu, Punjabi, Bangla, and Danish
Practitioners:
Under the Supervision of the Principal of UK Academy of Islamic Sciences:Shaykh Ahmad Dabbāgh
Dr. ShahAlam | Sajid Hussain | Abdur Raheem Dabb`āgh | Gulfam Hussain
Muhammad Shafiq | Ajaz Ahmad | Siraj-Ul-Islam | Ghulam Ali Auliya
Stay Connected:
Website: www.FreeHealing-Ruqyah.com
Email: [email protected]
Brothers | +44 7956 840 838 – Sisters | +44 7871 939 314
DISCLAIMER: THIS IS A FREE SERVICE OF PRAYER AND HEALING. WE STRONGLY ADVISE YOU TO CONTINUE TO SEEK MEDICAL ADVICE AND TREATMENT ACCORDINGLY.
---
Location:
Noshahi Kashmir Civic Center
279-285 Coventry Road
Small Heath , Birmingham B10 0RA United Kingdom
+ Google Map

---
More upcoming events