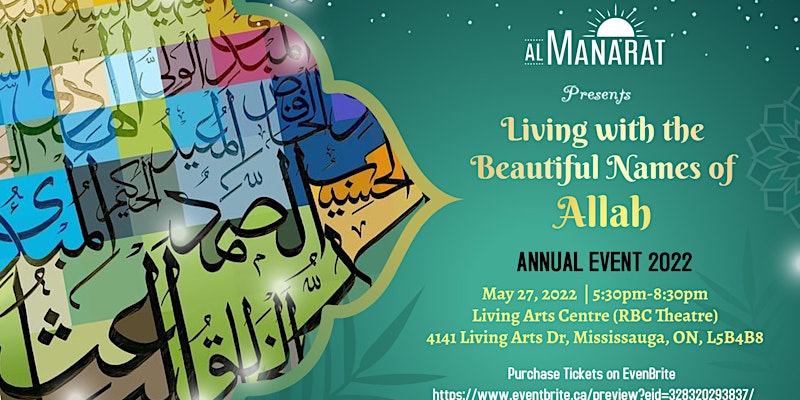 Description:
Living with the Beautiful Names of Allah – Annual Event 2022
Assalamualaikum Wa Rahmatullah,
Dear Parents and Guardians,
It is our utmost pleasure and with immense excitement that we announce Al-Manarat's first-ever theatre production titled 'Living with the Beautiful Names of Allah' on May 27th, 2022 between 5:30 pm and 8:30 pm.
Abu Qasim al-Asbahani says: The very first pillar that Allah Almighty has prescribed upon His servants is the knowledge of His Names and Attributes and once His servants know Him, they will truly worship Him.
The Prophet (S) says "Indeed the world is cursed. What is in it is cursed, except for the remembrance of Allah, what is conducive to that – the knowledgeable person and the learning person."The students at Al-Manarat have been learning throughout the year and it is now time that they teach this knowledge to others.
In this annual event, we will explore the beautiful names and attributes of Allah. We will learn what are these beautiful names? How can we embody these beautiful names in our lives? And ask Allah through these names? With the help of creative plays, nasheeds, and performances the little hearts will show that the beautiful names of our Rabb are in action every day but very few actually ponder and see these signs around them. The creation of Allah speaks about Allah.
و لِله الأسماءُ الحسنى فادعوه بهاAnd to Allah belongs the beautiful names, so call upon Him by them
We are pleased to invite the parents, guardians, and guests to attend the Al-Manarat Annual Event 2022 as we celebrate, cherish and relive the beautiful names of Allah.
The last day to purchase the ticket is Friday, May 13th, 2022.
Venue: Living Arts Centre (RBC Theatre), 4141 Living Arts Dr, Mississauga, ON L5B4B8
Since this is a theatrical performance, parents are advised to take note of the following rules:
1. No food or drinks will be allowed inside the theatre. However, water bottles are allowed.
2. Parents with children under the age of 4 should sit with the parent or a seperate ticket has to be bought.
3. No stroller is allowed in the theatre.
4. No talking allowed during the performance. There is should be complete silence during the performances.
5. Students will be backstage and will not be sitting with parents during the presentation. Students who have already performed will be in a 'holding' room on the upper floor where students will be engaged in different activities.
We pray to Allah to shower His barakah in our endeavor and allow us to learn and maintain the vigor and enthusiasm to learn the beautiful names of Allah.
BarakAllahu Feek,
Al-Manarat Team
---
Location:
Living Arts Centre
4141 Living Arts Drive
Mississauga , Ontario L5B 4B8 Canada
+ Google Map

---
More upcoming events