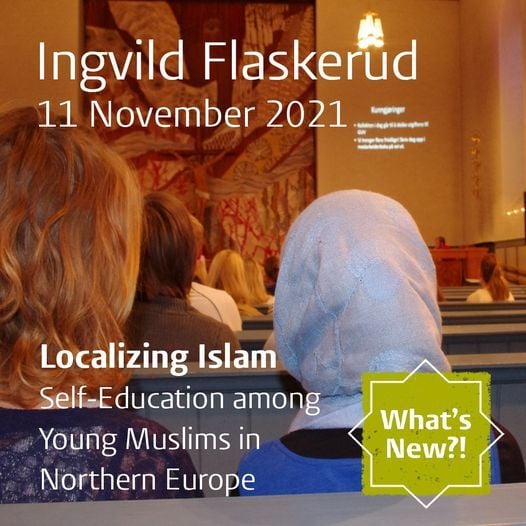 Description:
ONLINE!! LUCIS What's New lecture by Ingvild Flaskerud
In this lecture, I discuss self-education among young Muslims living in Northern Europe. From 2009 to 2021, nine Twelver Shia religious organizations have been established in Oslo, Norway, run by young men and women from the age of 15 to 30. The groups are self-governed in the sense of being initiated and administered by the young, independently from mosques. What are the youths' motivations for establishing self-governed groups and how do the members proceed to achieve their objectives? The analytical theoretical underpinning draws from Scott, who connected the concept 'temporality of generations' to the notion of 'problem-space, understood as a discursive formation of concepts, ideas, meanings, etc, and a context of the argument. What defines a problem-space are not simply the posed problems, but the questions asked and the answers that seem worth having. In examining the youths' motivations, I establish their posed problems and questions. In examining how they responded I identify their answers. The nine groups pursued various types of educational methods, information, interpretive frames, questions, and answers, reflecting the diversity within the community. The findings offer insight into what knowledge and competence are considered important and relevant to young Twelver Shiites living in Northern Europe today.
About Ingvild Flaskerud
Dr. Ingvild Flaskerud is a historian of religion who has specialized in the study of Twelver Shiism in Iran and Europe. She has presented ground-breaking perspectives on Muslim visual and material culture in the monography Visualizing Belief and Piety in Iranian Shiism (2010), and her research interests also include gender, ritual as social and ethical discourses, Twelver Shia migration to the West, and Muslim youth. She is the co-editor of Muslim Pilgrimage in Europe (2018) and has produced an ethnographic film introducing Iranian Shia women as ritual performers, Standard-bearers of Hussein: Women commemorating Karbala (2003).
See also her blog on Twelver Shi'a pilgrimage for LUCIS' Leiden Islam Blog.
Could you be so kind as to register at: https://fd24.formdesk.com/universiteitleiden/fgw_lucis_whatsnew_Ingvild_Flaskerud
You may also like the following events from LUCIS:
Also check out other Entertainment Events Online, Performances Online.
Tickets
Tickets for Localizing Islam: Self-education among Young Muslims in Northern Europe can be booked here.
---
---
More upcoming events