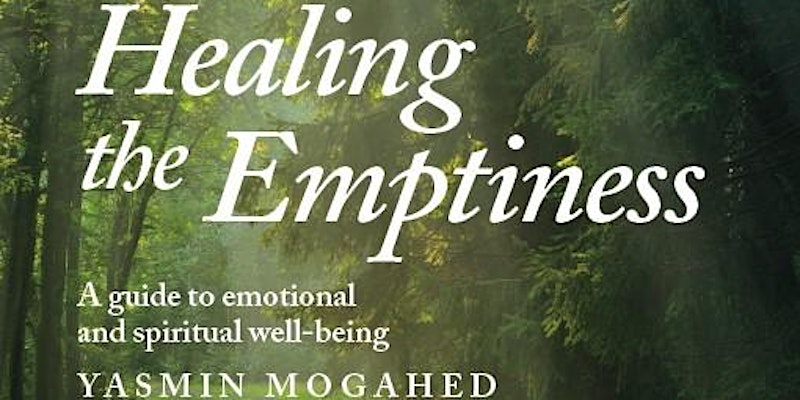 Description:
A New Seminar in LONDON based on the New Book written by Yasmin Mogahed (USA) to be launched on the day! Join us for this special day!
Healing the Emptiness: A guide to emotional and spiritual well-being
An Exclusive Book Launch in London, join us as Ustadha Yasmin Mogahed (USA) teaches this New Seminar based on her NEW Book written after 10 years!
Just as we were sent on this worldly journey with the capacity to fall, we were also given the capacity to rise. Just as we would bleed, we would also heal. We would be designed with the divine capacity to cope. To survive. To even thrive through the storms. Each and every one of us would be given the God-given potential to see through the darkness. To rise through the cold. To break again and again, and to heal again and again. And then to be even more beautiful at the broken parts.
The Seminar will address contents of the New Books which includes:
-Emptiness: The Origin and filling the Emptiness
-The Purpose of Trials
-Trauma in the Qur'an
-Diagnosing the Suffering
-The Root of our Suffering
-Toxic myths of Sabr
-Negative Thinking
-Shame
-And more
The Seminar will also include:
-Book signing of the New Book with Ustadha Yasmin Mogahed (USA)
-Live Interview Session
-Exclusive Q and A Session
And more
Special Guest Speaker:
Ustadha Yasmin Mogahed (USA)
Price: £20 early bird discount, £25 after the 15th June 2022 (No kids under 7), small eventbrite fee applies
Date: Friday 24th June 2022
Time: 6:30pm-9:30pm (Doors open from 5:30pm)
Venue: The Atrium, 124-126 Cheshire Street, E2 6EJ, London
Local Train Stations are Bethnal Green (Central Line) and Whitechapel (Hammersmith/District Lines). Both stations are a 5-7 minute walk away.
For more info and to book, please visit: WWW.ALBURUJPRESS.COM
No refunds are accepted under any circumstances unless requested 17 days or more before the event. Any ticket(s) brought within 17 days of the event is non refundable. Kids under 7 are not allowed on this course. Kids 7 years and above normal ticket rules apply. We reserve the right to change the content of the schedule on the day or have any extra presentations without any approval or notice. By enrolling, you agree to Al Buruj Press being in contact with you with regards to future events/courses, trips and campaigns. Your information is not shared with any 3rd party. This is a women only event.
---
Location:
The Atrium
124-126 Cheshire Street
London , E2 6EJ United Kingdom
+ Google Map

---
More upcoming events