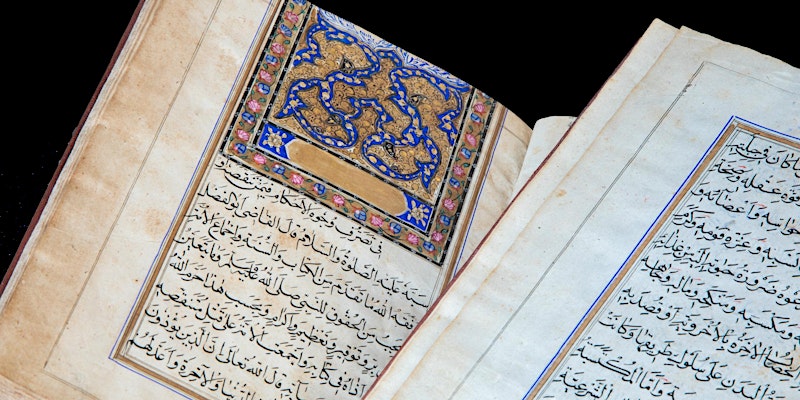 Description:
Two-day short course on Arabic manuscripts on 15 and 16 November.
This online course aims to introduce key concepts in the field of Arabic manuscripts and codicology. It is designed to attract participants who want to learn basic knowledge about Arabic manuscripts. The first day will provide an overview of the field of codicology and its role in the manuscript field in general and in identifying key features of manuscripts in particular. The second session will be dedicated to writing supports, the structure of quires, ruling and page layout, bookbinding, ornamentation, tools and materials used in bookmaking, and the paleography of book hands. Some practical examples will be given based on the lecturers' long experiences. The second day will focus on the importance of manuscripts in research. While the first session will cover the paratextual features in the Arabic manuscripts, the second session will demonstrate the different approaches in editing manuscripts.
This introductory course is intended for students, researchers, and librarians who wish to increase their knowledge in the manuscript field.
Learning Outcomes:
– Basic understanding of the field of Arabic manuscript studies.
– Identify the role of manuscripts in knowledge production in different areas of studies in Muslim cultures.
Course Convenors:
Dr. Walid Ghali is the Head of the Aga Khan Library, London, Associate Professor of Islamic and Arabic studies at the Aga Khan University's Institute for the Study of Muslim Civilisations, and a Chartered Librarian of the Chartered Institute of Library and Information Professionals (CILIP). Dr. Ghali received his Ph.D. in Islamic Manuscript Studies from the Faculty of Arts, Cairo University (2012). Dr. Ghali's current research projects focus on Islamic manuscript traditions, particularly in Arabic script and book history. He has published on Arabic literature, Sufi traditions, and Islamic manuscripts cultures.
Dr. Anne Regourd is a researcher at the Centre National de la Recherche Scientifique/French National Centre for Scientific Research (CNRS) in Paris, France. She has published extensively in the fields of History and Philology dealing with Codicology, Paper Studies, and Papyrology. She is the editor of the book, The Trade in Papers Marked with Non-Latin Characters, Leiden, E.J. Brill, 2018, and heads the free access online journal, Nouvelles Chroniques du Manuscrit au Yémen.
Dr Eléonore Cellard is a specialist in Qurʾānic manuscripts. She started her research activities in 2008 under the supervision of Professor François Déroche. In 2015, she submitted her dissertation entitled The Written Transmission of the Qur'an: Study of a Corpus of Manuscripts from the 2nd Century AH/ 8th Century CE (INALCO/EPHE). She has collaborated on several international projects about Qurʾānic manuscripts, and recently carried out a research project on one of the Qurʾān copies attributed to the caliph ʿUthman ibn Affan'. She has also authored several monographs and articles on Qurʾānic manuscripts.
Tickets: £80 for professionals | £50 for students, AKU alumni, and staff
Time: 15-16 November 2021, 11:00 -15:00 (London Time).
The course will be delivered via Zoom and further details will be provided later upon registration.
This course will not be recorded.
---
---
More upcoming events