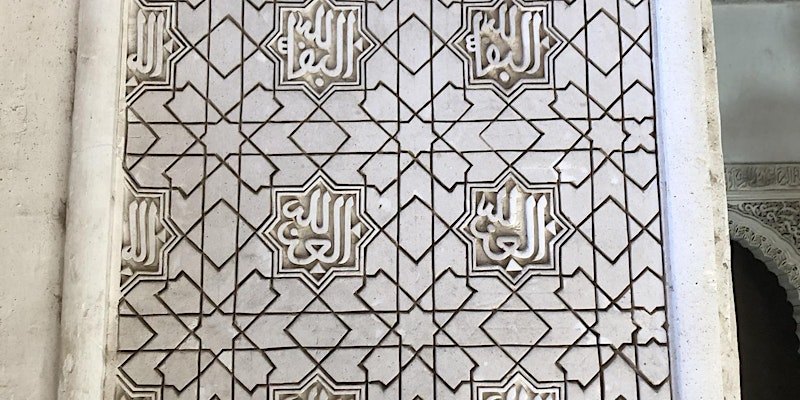 Description:
A 2-hour long masterclass that takes us into the labyrinthine streets of Fes.
Join VAWAA Artist and multidisciplinary craftsman Hamza for a 2-hour long masterclass that takes us into the labyrinthine streets of Fes through one of the beautiful geometric patterns that adorn the city.
On Saturday, January 22nd at 11 AM EST, we'll use a compass and ruler to draw the pattern from the 14th C. Attarine Madrasa in Fes Medina.
This pattern has been specially selected for those at an intermediate level, but participants of all levels are welcome to join the challenge and will find it useful. You can also check out other online sessions by Hamza here.
As always, you'll meet others in the community from around the world. There will be live Andalusian oud music by Hamza, plenty of time to ask questions, draw together and share. After the session, we'll have the opportunity to continue discussions and share in the private FB group.
If you are not in the EST time zone, be sure to convert the time.
What you'll need
A compass, divider, mechanical pencil: 0.5 HB (any), ruler, sheets of paper (A4 or A3), eraser, sharpener, and coloring pencils.
How to join
We'll be hosting this VAWAA Online on Zoom. We'll send links and details to join via email 1 day and again 1 hour before it begins.
About Hamza
Hamza is a geometer, brass-smith, bookbinder, an Andalusian Oud musician, and founder of a crafts studio dedicated to Moroccan arts and crafts in Fes. He comes from a multigenerational family of artisans and passing on crafts knowledge is a family culture. He apprenticed under his father and traveled around 15 countries crafting and learning from masters. Now his mission is to continue this legacy and help people around the world connect with old Moroccan crafts. His traditional art revolves around the art of Compass & Ruler. With those two instruments, he draws and traces Moorish and Islamic geometric patterns, etches and engraves them on brass and copper trays, and embosses them on leather book covers.
Visit his artist page to learn more about his in-person VAWAA.
Reviews
"Working live with Hamza was truly inspiring. He is an excellent teacher and was also able to ground us with the cultural significance of his art all throughout the lesson." – Steve
"Mr. Hamza is an amazing teacher. He taught in a simple way and he gave a nice historical speech about Islamic geometry. I love how he gives variations and different possibilities of the pattern. This opens up our curiosity and nourishes our creativity." – Mona
"Excellent creativity and imagination showed in the works" – Richard
"This class was such an immersive experience. Not only learning a new skill but sharing that with a handful of people from all over the world, right in my living room (well, through a screen). I highly recommend taking the leap." – Kait
"The surprise moment was when Hamza played this instrument for us after we were done with the pattern making. This made the whole experience personal & real." – Hitasha
"Well conducted using Zoom enabling us to understand the process and produce an attractive repeating pattern in a short time." – Sally
"Another amazing two hours spent with Hamza. So much insight and rich cultural context, but also Hamza has a special ability to make the complex and advanced access to people of any level." – Ezra
Browse other VAWAA Online Sessions
Learn more about VAWAA in-person mini apprenticeships
Subscribe to the latest news and updates from around the world here
---
---
More upcoming events