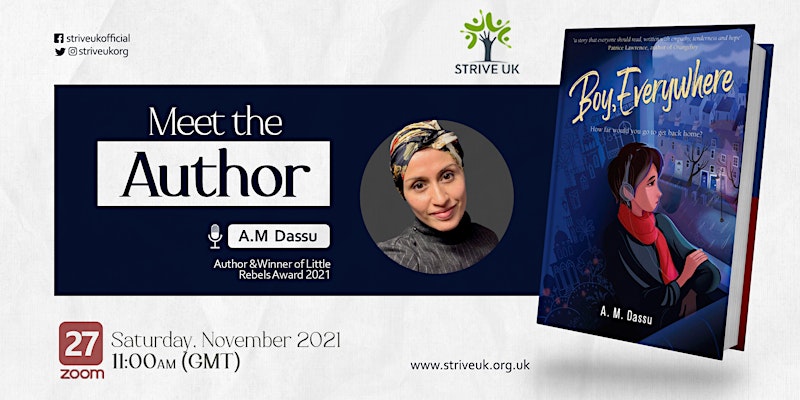 Description:
Meet the Author: A M Dassu
StriveUK Kids' Book Club aims at getting young readers interested in literature that positively transforms not just themselves but also communities that they live in. Kids have amazed us with their interest in literature that makes sense of things around them – i.e. climate change, ordeals of refugees, the inequalities of wealth, and the impact that it has on the dreams of children. Such 'heavy' topics from the lens of their age have given it a new meaning that even we as adults have missed.
At StriveUK, we want our children to be confident young Muslims who have clarity in thinking and are well equipped to challenge norms. Reading the right content can contribute a lot towards achieving that and it is with this intention that our Book Club came about. We meticulously choose age-appropriate books from various genres of fiction, nonfiction, biography, poems and have successfully completed two sets of books with around 50 young readers in a 6- month period.
After our successful sessions with Anjali Rauf and Prof Refaat who shared heart-rending stories of children reeling under the illegal occupation, StriveUK kids Book club is proud to announce our next Meet the author event with A.M.Dassu.
About the Author
A. M. Dassu is a highly talented writer based in England. Her novel "Boy Everywhere" is featured as one of The Guardian's Children's Best New Novels on publication in October, is on Amnesty's Books That Inspire Activism list and has been listed for 12 awards including the Waterstones Children's Book Prize, the "most prestigious accolade for children's books in the UK" and is the 2021 winner of The Little Rebels Award for Radical Fiction. She is the Deputy Editor of SCBWI-BI's Words & Pictures magazine and a Director of Inclusive Minds which is a unique organization for people who are passionate about inclusion, diversity, equality, and accessibility in children's literature, and are committed to changing the face of children's books.
---
---
More upcoming events