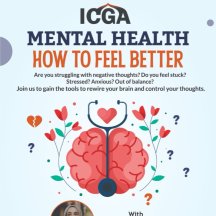 Description:
Are you struggling with negative thoughts? Do you feel stuck? Stressed? Anxious? Out of balance?
Join us to gain the tools to rewire your brain and control your thoughts. 
اِنَّ اللّٰهَ لَا يُغَيِّرُ مَا بِقَوۡمٍ حَتّٰى يُغَيِّرُوۡا مَا بِاَنۡفُسِهِمۡؕ
God will not change the condition of people until they change what is in themselves. 13:11
Refreshments Provided.
Lama Aboubakr is a certified life coach.  She trains and empowers high-achieving executives and individuals to manage their minds with whatever life throws at them. She focuses on developing the skills you need to understand yourself and your emotions and she provides an individualistic approach to uncover the obstacles in a way that aligns with your spiritual values and goals
For more information:
---
Location:
Masjid Khadijah -
5110 Manor Rd
Autin , Texas 78723 United States
+ Google Map

---
More upcoming events