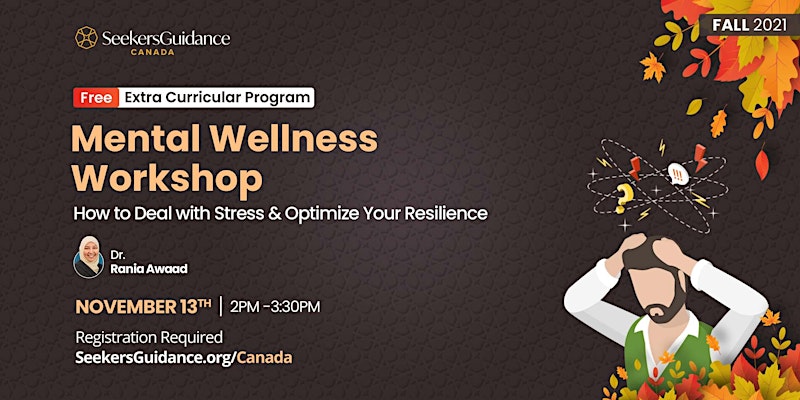 Description:
Join us for this important event with a specialist in Mental Health, Dr. Rania Awaad.
About this event
Emotional resilience is a trait that needs to be learned and developed to help humanity reach their utmost potential, especially when dealing with adversity. Many of us experience quite stressful situations, and we need to be familiar with how to handle these (minor or major) challanges with the utmost grace and strength. Through prayer and learning from our teachers, we can learn how to grow from adversity, and to turn potentially negative events into positive ones.
In this workshop you will learn:
how to develop the right attitude towards stressful encounters
how to perceive how you are really feeling and why
the difference between events within our control and events out of our control & how this relates to trust in Allah Most High
how to develop a more optimistic view of the world
where to find suitable social support in difficult times
the importance of humor and exercise
how to keep going when one feels like quitting altogether
SeekersGuidance Canada is excited to host a. professional in the field of Mental Health, Dr. Rania Awaad:
Dr. Rania Awaad, M.D. is a Clinical Associate Professor of Psychiatry at the Stanford University School of Medicine where she is the Director of the Muslim Mental Health Lab and Wellness Program and Director of the Diversity Clinic. She pursued her psychiatric residency training at Stanford where she also completed a postdoctoral clinical research fellowship with the National Institute of Mental Health (NIMH). Her research and clinical work are focused on the mental health needs of Muslims.
Prior to studying medicine, she pursued classical Islamic studies in Damascus, Syria and holds certifications (ijaza) in Qur'an, Islamic Law and other branches of the Islamic Sciences. Dr. Awaad has also served as the first female Professor of Islamic Law at Zaytuna College, a Muslim Liberal Arts College in Berkeley, CA where she taught courses on Shafi'i Fiqh and Women's Fiqh and Qur'anic sciences for nearly a decade. In addition, she serves as the Director of The Rahmah Foundation, a non-profit organization dedicated to educating Muslim women and girls. At Rahmah, she oversees the Murbiyyah spiritual mentoring program for girls. Dr. Awaad is a nationally recognized speaker, award-winning teacher, researcher and author in both the Islamic and medical sciences.
---
Location:
SeekersGuidance Canada
220 Britannia Road E
Mississauga , ON L4Z 1S6 Canada
+ Google Map

---
More upcoming events