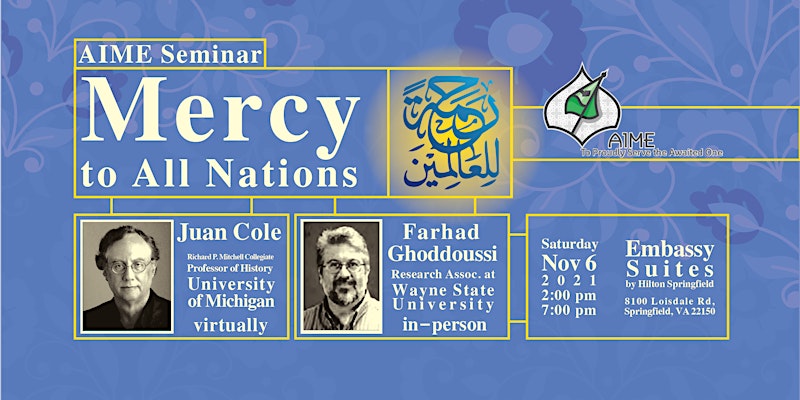 Description:
Join us to learn about one of the most influential people in human history, who is named in the Quran, as the Mercy to All Nations.
About this event
Join us to celebrate the life of the Mercy to All Nations, Prophet Muhammad(PBUHHP).
We are honored by the virtual presence of Professor Juan Cole of the University of Michigan, the author of Muhammad: Prophet of Peace Amid the Clash of Empires. In addition, Dr. Farhad Ghoddoussi from Wayne State University will be present in person.
The program contains lectures, an interactive workshop, and a Q&A session around the topic of the Sirah of the Prophet. It is aimed at students in college and above, and seekers of knowledge who would like to learn about one of the most influential people in the history of mankind. The event is held in person, but you can have limited online participation.
The program starts at 2:00 PM on Saturday, November 6, 2021. It is imperative that you arrive on time.
Registration is required for both in-person and online participation. For in-person participation, the ticket is $50 per person. There is a student discount available. Meanwhile, if you are interested in this program and having a hard time paying for the ticket, you may send us an email at [email protected], and we can accommodate your registration.
Please note that both in-person and online capacity is limited, and the registration deadline is October 30, 2021.
*** All CDC guidelines, as well as local regulations, will be strictly followed. ***
We look forward to seeing you!
---
Location:
Embassy Suites by Hilton Springfield
8100 Loisdale Rd
Springfield , Virginia 22150 United States
+ Google Map

---
More upcoming events