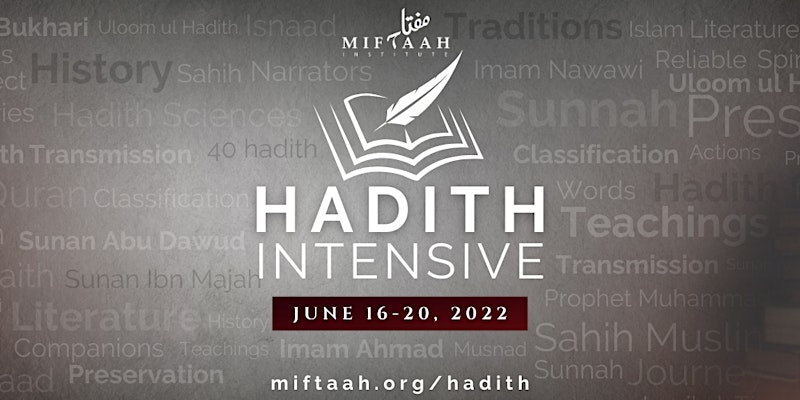 Description:
Start your journey of learning Hadith with Miftaah Institute this June 16-20, 2022.
HADITH INTENSIVE
EXPLORING OUR PROPHETIC TRADITIONS
This Hadith Intensive is an introductory study that exposes students to foundational and critical concepts of the hadith sciences through unanimously accepted and renowned texts.
This intensive includes a general survey of hadith collections to help students nurture their faith, deepen their religious understanding, and increase their love for the Beloved Prophet Muhammad (PBUH). This course will include the study of the Hadith Sciences, the history of Hadith Compilation, the background of various Narrators, and various texts of Hadith.
This is the perfect opportunity to begin or continue the journey of learning Hadith and understanding our prophetic traditions. Please join our Miftaah Scholars, Shaykh Abdullah Waheed and Mufti Abdul Wahab Waheed for our Hadith Intensive. Join us both – in person and online – to explore the treasures of our prophetic traditions from June 16 – 20th.
---
Location:
Islamic Association of Greater Detroit
879 West Auburn Road
Rochester Hills , Michigan 48307 United States
+ Google Map

---
More upcoming events