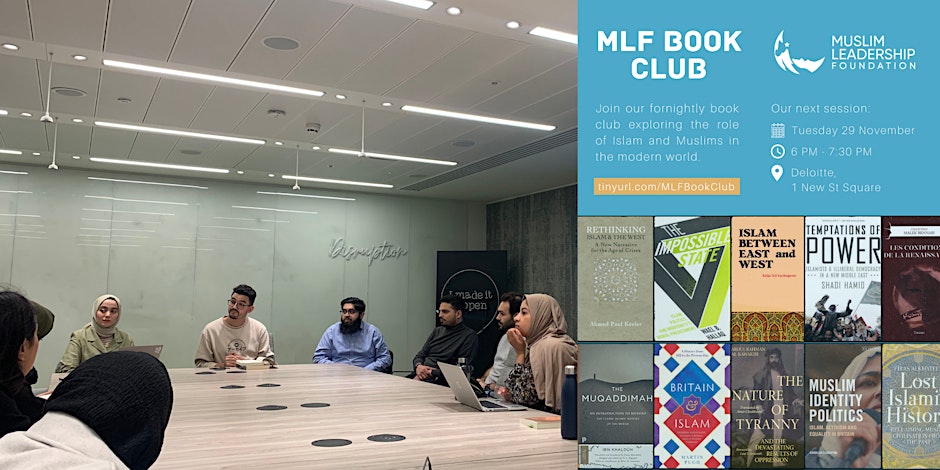 Description:
Taking place on Tuesday evenings at Deloitte London, join us for a fortnightly book club where we will explore the role of Islam and Muslims in the modern world.
Our introductory session was held on Tuesday 15th November 2022. Following sessions will take place every fortnight from 6pm to 8:00pm July 2023. We host an informal networking session from 6pm to 6:30pm, the session then takes place from that time to 8:00pm. The club is hosted with the support of the Deloitte Muslim Network.
The Books List (no particular order):
Rethinking Islam and the West: A New Narrative for the Age of Crises – Ahmed Paul Keeler
The Muqaddimah: An Introduction to History – Ibn Khaldun
Britain and Islam: A history from 622 to the present day – Martin Pugh
Muslim Identity Politics: Islam, Activism and Equality in Britain – Khadijah Elshayyal
Temptations of Power – Shadi Hamid
The Nature of Tyranny – Abdul Rahman Al-Kawakibi
The Conditions of Renaissance – Malek Bennabi
The Impossible State: Islam, Politics, and Modernity's Moral Predicament – Wael B. Hallaq
We will be discussing a different book after every 2 – 3 sessions. Don't worry if you aren't able to read the whole book, the essential chapters of the book will be listed beforehand so read what you can!
PDF versions of the books will be available on request if you need financial assistance to access them books.
If you are a member of the Deloitte Muslim Network, please select that ticket.
Once you secure your space, we will send you more details about the format of the book club.
For more information please email [email protected] or message us on social media.
---
Location:
Deloitte
1 New Street Square
London , EC4A 3BZ United Kingdom
+ Google Map

---
More upcoming events