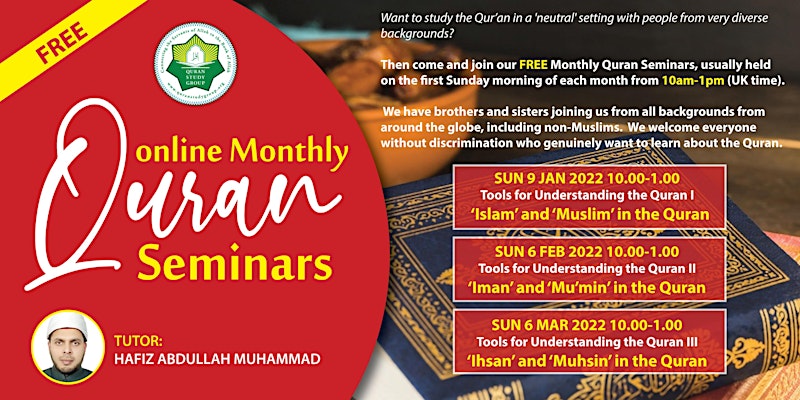 Description:
An opportunity to study the Quran with a diverse group of people in a neutral setting.
JOIN THE QURAN STUDY GROUP!
Want to study the Qur'an in a 'neutral' setting with people from very diverse backgrounds?
Then come and join our FREE Monthly Quran Seminars, usually held on the first Sunday morning of each month from 10.00am-1.00pm (UK time).
We have brothers and sisters joining us from all backgrounds from around the globe, including non-Muslims. We welcome everyone without discrimination who genuinely wants to learn about the Quran.
Venue: Zoom
Cost: FREE
Registration link for FREE Zoom link:
https://www.digitalummah.uk/ticketevents
For any queries, please email [email protected]
SUN 9 JAN 2022 10.00-1.00
Tools for Understanding the Quran I
'Islam' and 'Muslim' in the Quran
SUN 6 FEB 2022 10.00-1.00
Tools for Understanding the Quran II
'Iman and 'Mu'min' in the Quran
SUN 6 MAR 2022 10.00-1.00
Tools for Understanding the Quran III
'Ihsan' and 'Muhsin' in the Quran
PS The Quran Study Group's 15th annual Journey Through the Quran Course in Ramadan will be held over a single weekend from 9-10 April 2022 either onsite at Birkbeck College London or online. Please email us for further details at [email protected]
---
---
More upcoming events