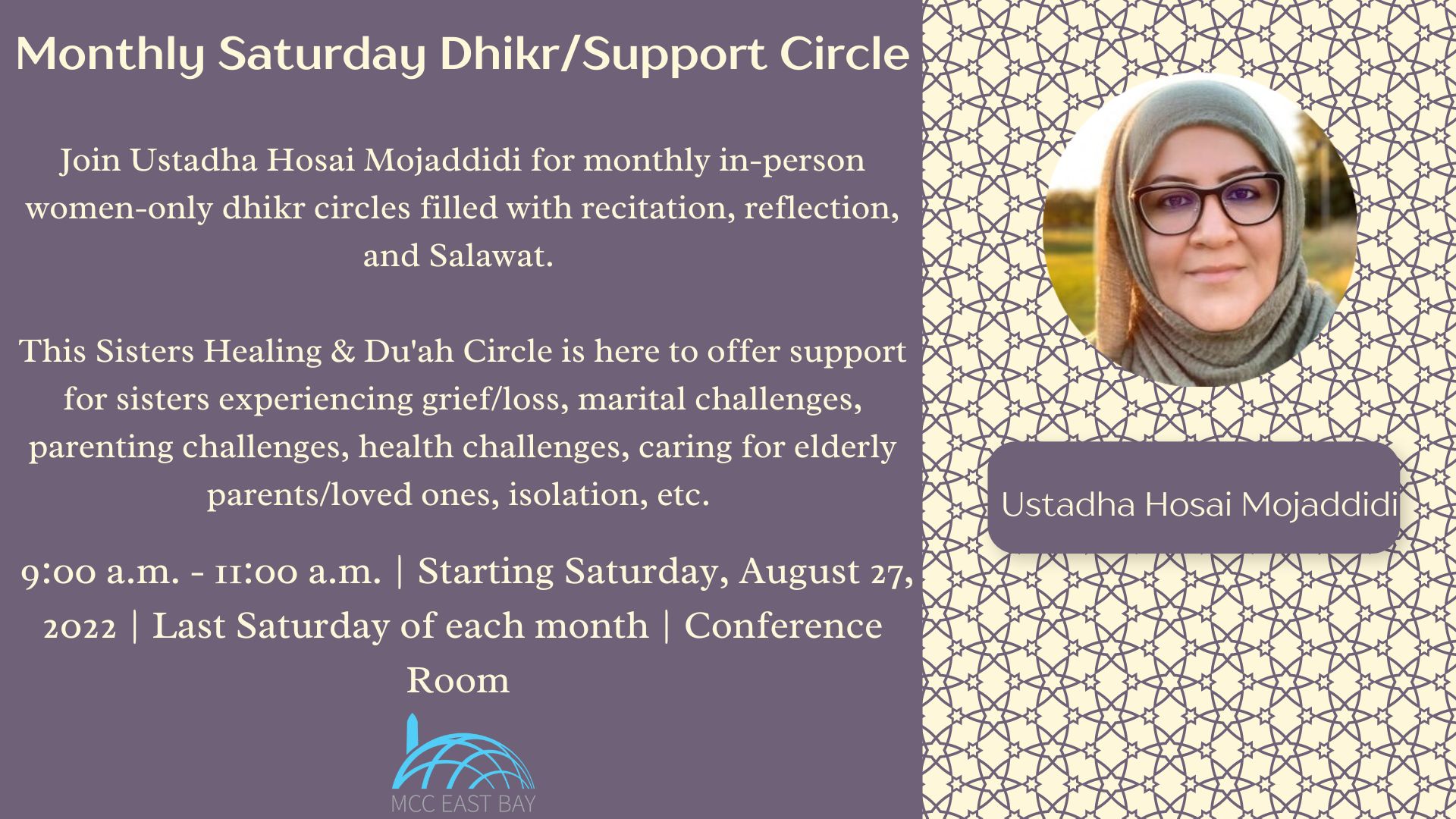 Description:
Join Ustadha Hosai Mojaddidi for monthly in-person women-only dhikr circles filled with recitation, reflection, and Salawat. This Sisters Healing & Du'ah Circle is here to offer support for sisters experiencing grief/loss, marital challenges, parenting challenges, health challenges, caring for elderly parents/loved ones, isolation, etc.
 9:00 a.m. – 11:00 a.m. | Starting Saturday, August 27, 2022 | Last Saturday of each month | Conference Room 
Schedule:
Welcome
Recitation of Ratib al-Shahr wird
Recitation of Surah Yasin
Dhikr 
Salawat
Short reflection (khatira)
Event Dates: 
Saturday, August 27
Saturday, September 24
Saturday, October 22
Saturday, November 19
Saturday, December 31
About Ustadha Hosai Mojaddidi:
Hosai Mojaddidi is the co-Founder of mentalhealth4muslims.com where she advocates for and writes about various mental health-related topics tailored for Muslims. She has served the American-Muslim community for nearly 20 years as an activist, writer/editor, mediator, interfaith organizer, and public speaker, covering a variety of topics including women's issues, marriage/family, education, and self-development, interfaith bridge-building, spirituality, etc.
In her spare time she enjoys reading, writing, blogging via social media (Facebook, Instagram, and Twitter), doing arts and crafts, visiting gourmet coffee shops, and exploring the countless beautiful parks, beaches, and nature preserves throughout Northern California where she lives with her husband, two sons, and fish named Max.
Questions? [email protected]
---
Location:
MCC East Bay
5724 W Las Positas Blvd #300
Pleasanton , California 94588 United States
+ Google Map

---
More upcoming events