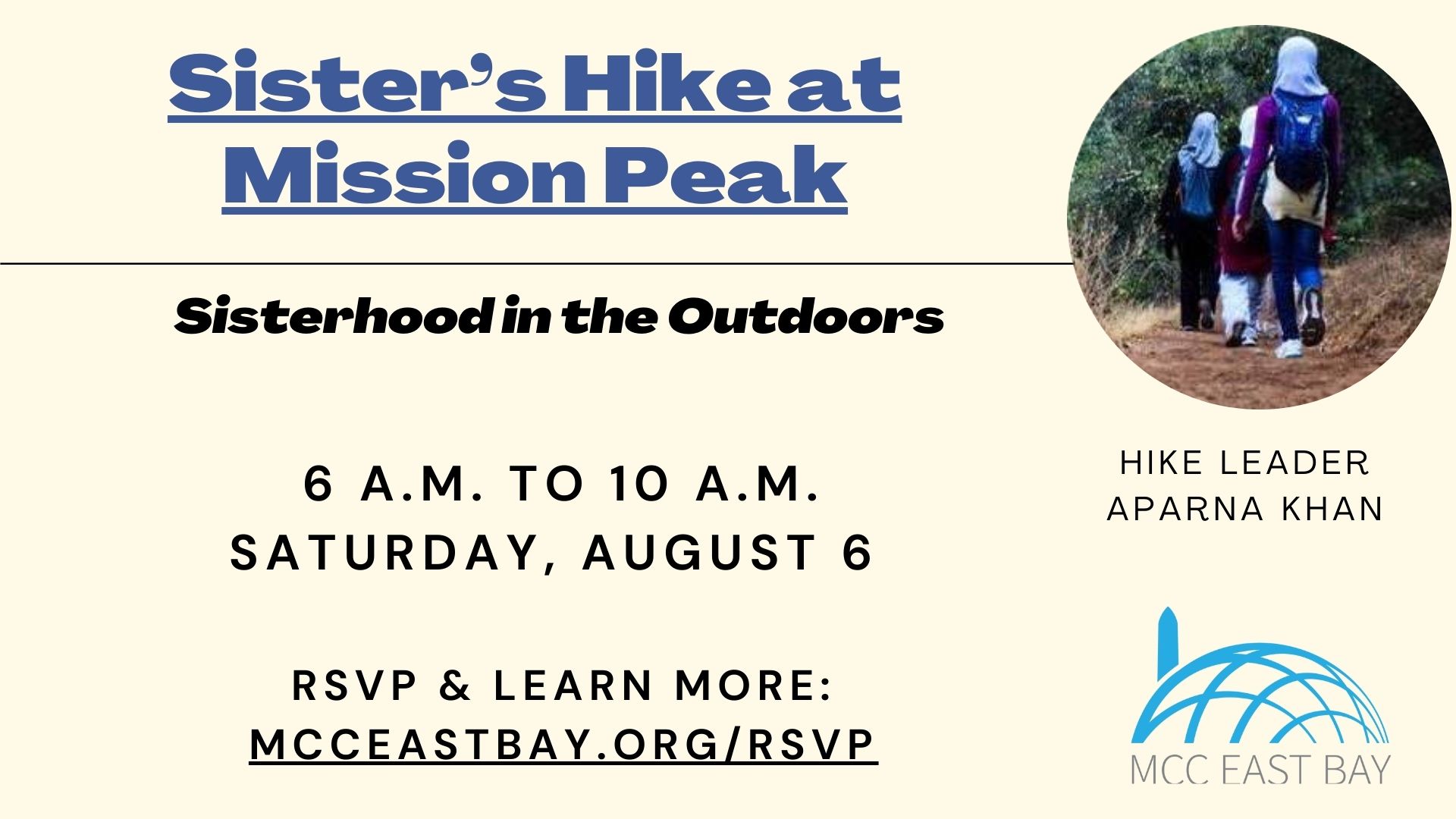 Description:
Join us from 6 a.m. to 10 a.m. on August 6 for a Saturday morning hike at 
Mission Peak
 near Fremont to get to know other sisters in the community and enjoy the great outdoors. No children please (teens okay).
– When: Saturday, August 6
– Time: 6 a.m. – 10 a.m. Group can wait till 6:10AM and will start the hike. Please be on time since we cannot hold the group.
– Carpool: No carpool from MCC is available for this hike. Carpool encouraged with others on this hike.

Parking: Ohlone College Parking Structure, Fremont, CA 94539 , trail starts right across the parking structure. The parking fee is $5 or street parking is free but it is a quarter-mile walk to the trailhead.

– Location: Mission Peak, Fremont from Ohlone college. https://tinyurl.com/yn259nha . Recommend to use Google maps.
– Distance: Around 7 miles
– Difficulty: Hard
– Misc: Please wear comfortable walking/hiking shoes, carry enough water, a small snack, hat, sunglasses, and hiking poles if you have one. No cell network in that area, suggest carpooling and downloading the AllTrail maps.
Restroom: Porta-potty at the beginning of the trailhead and one around mile 3 on the trail.
– RSVP: By Friday, August 5, please let us know you are coming for this hike: https://mcceastbay.org/rsvp
Sr. Aparna Khan will be leading this hike. On the day of the hike, if you have trouble finding the group, please call or text Sr. Aparna at (408) 480-6584. Please remember that we cannot hold all the group so we request you to please be on time.
For future hikes, please subscribe to the MCC newsletter and/or add your phone number to the Women's Hiking WhatsUp group.
Please wear comfortable walking/hiking shoes, carry a water bottle, a small snack, hat, sunglasses, and hiking poles if you have one. 
** This is a 7mile loop and very hard with a lot of elevation. Please refer to all trails map to see hike difficulty, If you are first-time hiker, this is not recommended.
About the Trail:
Experience this 7.3-mile out-and-back trail near Fremont, California. Generally considered a challenging route, it takes an average of 4 h 21 min to complete. This is a very popular area for backpacking, camping, and hiking, so you'll likely encounter other people while exploring. The trail is open year-round and is beautiful to visit anytime. Dogs are welcome and may be off-leash in some areas.
Questions? [email protected]
---
---
More upcoming events