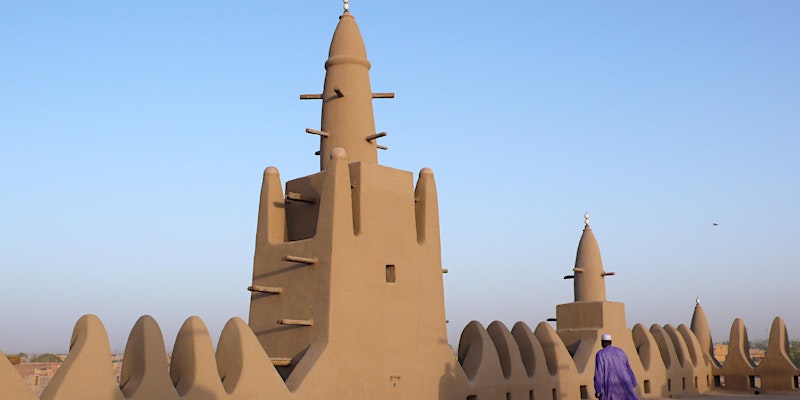 Description:
Two-day online short course on Muslim architecture in Sub-Saharan Africa by AKU-ISMC's Professor Stephane Pradines on 23 and 30 May 2022.
This two-day online course introduces participants to Muslim architecture in Sub-Saharan Africa. Following an introduction to Islamic architecture and mosques, the first session will explore mosques in West Africa, from the Sahara to the tropical forests. The second session will look at the mosques in East Africa, from the Nile valleys to the Swahili coast. This day will be based on Professor Stephane Pradines' extensive knowledge and fieldwork in Egypt, Ethiopia, and the Swahili coast.
This short course provides the basis for understanding and critically examining the development of Islam in Sub-Saharan Africa. It approaches architecture through building materials and African construction techniques, from earthen monuments to coral stone buildings. Two important themes will be developed: first, the diffusion of ideas, people, and material cultures across the Sahara Desert; second, the role of Islam in the building of maritime regional identities, international trading networks, and urbanization of the Swahili coast.
Learning Outcomes
This course presents Muslim architecture in a very specific context: Sub-Saharan Africa during the Medieval and Modern Ages. Following this short course, participants will be able to:
• Differentiate between mosques in Sub-Saharan Africa from their counterparts in North Africa and the Middle East.
• Recognise the different types of African mosques by geographical areas and by chronological phases.
• Learn about the importance of cultural exchanges across the Sahara Desert and the Indian Ocean.
• Receive a methodological background on archaeology, history, and the history of architecture in Sub-Saharan Africa.
• Distinguish between different types of building materials and natural resources in Africa.
• Study the impact of the past to understand the political tensions in West Africa today.
Course Convenor
Stephane Pradines is an archaeologist and Professor of Islamic Art and Architecture at the Aga Khan University's Institute for the Study of Muslim Civilisations (AKU-ISMC) in London. Professor Pradines was the Director of the excavations of the Walls of Cairo (Egypt) and many other excavations in the Indian Ocean and East Africa. Currently, his main excavation project is at Lahore Fort in Pakistan. He is a specialist of Islamic archaeology in Sub-Saharan Africa, Indian Ocean medieval trade, and Muslim material culture of war. Professor Pradines is the Founding Editor of the Journal of Material Cultures in the Muslim World (MCMW). He has published many articles and books on Swahili architecture, urbanism, and mosques. Professor Pradines is a mosque expert on the Indian Ocean region for UNESCO and the WMF. He has excavated several mosques in Ethiopia (Nora), Kenya (Gede), Tanzania (Songo Mnara, Sanje ya Kati, and Kua), and the Maldives (Fandiyaaru and Bodha Miskiy, Koagannu, Hulhumeedhoo, Addu Atoll, and Fenfushi, Ari Atoll). Professor Pradines' latest book is Historic Mosques in Sub-Saharan Africa, from Timbuktu to Zanzibar, by Brill Publishers.
Date and Time
23 and 30 May 2022, 13:30 – 16:30 ( London Time).
Tickets and Booking
£75 professionals | £45 students, AKU alumni, and AKU and AKDN staff.
For African professionals and institutions, please enquire for further information by contacting: [email protected].
*The course will be delivered via Zoom. Readings and further details will be provided later upon registration.
*This course will not be recorded.
Image: Mopti Mosque, Mali, by Aga Khan Trust for Culture.
---
---
More upcoming events