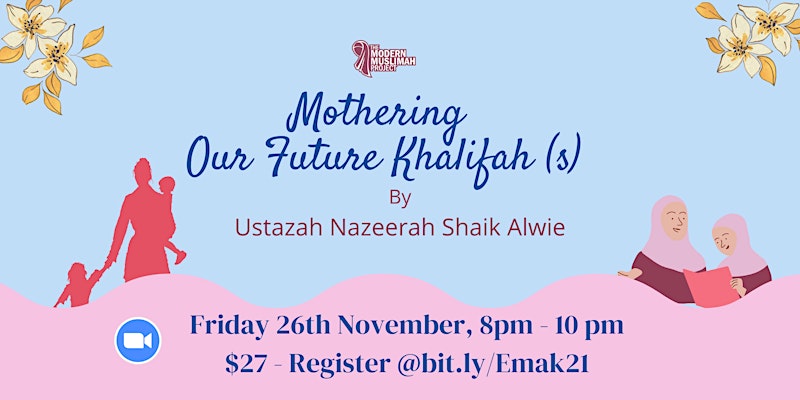 Description:
An Online Parenting workshop with Ustazah Nazeerah Shaik Alwie
Ustazah Nazeerah, a mother of 3 (2 boys and a girl) is back with a much-needed workshop for mummies, on mothering boys & girls (especially from age 4 up to puberty). This is a crucial and challenging phase and would basically shape up the boys & girls' upbringing.
What would be covered in these 2 sessions insyaAllah:-
1. Physical
surah issue sports which should be encouraged
types of clothing
foods that they should consume
teaching our children to lower their gaze
2. Mental
topics we should introduce to them
teaching the Hayaa' (Modesty)
3. Emotional
mummy-son time, how frequent?
girls' day out, is it necessary?
daddy's involvement
how to correct them, the right way
-time and approaches
4.  Spiritual
can they be our imam in solah
for how long should we stick to our dua
what is your child life map which you have planned for your child
If you are searching for the right ways and means to raise the future Khalifah, I invite
you to join me. Let's talk.
---
---
More upcoming events