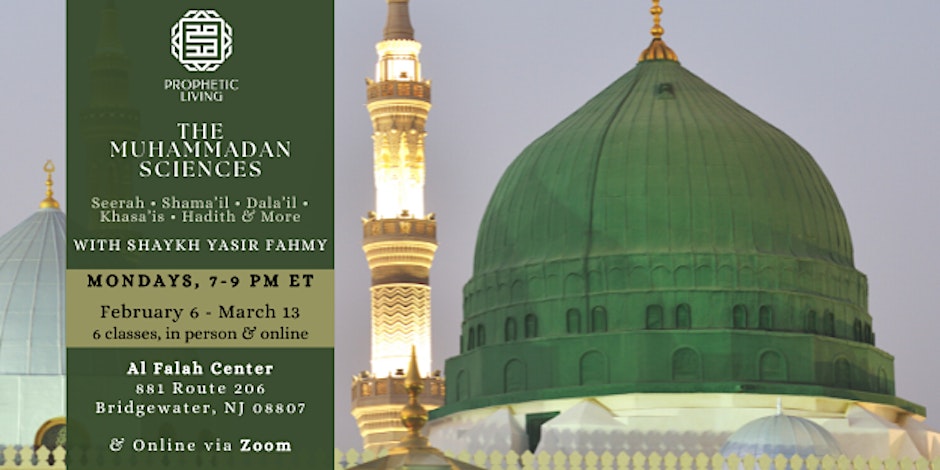 Description:
Assalamu 'alaikum wa rahmatullahi wa barakatuh,
Join us on Mondays at 7:00 – 9:00PM, starting February 6th, 2023 for Prophetic Living's winter course with Shaykh Yasir Fahmy on the Muhammad Sciences at Al Falah Center and online on zoom.
This course will deepen our understanding of the rich Islamic tradition about the Beloved, the Seal of Prophets, Muhammad ﷺ. We will embark upon a journey to get closer to the Messenger of God ﷺ, because to know him is to love him – and by knowing him we can strive to emulate him and apply his guidance and example in our lives, insha'Allah.
Known in Arabic as al-'ulum al-Muhammadiyyah, the Muhammadan Sciences encompass various spheres of knowledge including the prophetic biography (seerah), the characteristics (shama'il), uniqueness (khasa'is), and special status (fada'il) of Muhammad ﷺ, and the proof of prophethood (dala'il). Through the examination of the science of prophetic narrations (hadith) we will better appreciate the carefully preserved chains of transmission that allow us to seek Islamic knowledge and thus proximity to our Creator and His Messenger ﷺ.
_______________________________________
We welcome you to sponsor students in need of financial aid and to support Prophetic Living in the eventbrite ticket. Please email us at [email protected], if you need financial aid or have any further questions.
Mondays at 7:00pm – 9:00PM on Zoom and in-person at Al Falah, starting February 6th until March 13th.
Al Falah Center (881 Route 206, Bridgewater, NJ 08807)
*IMPORTANT NOTES*
*Children 10 years old and under can attend for free.
*If you register for the course during a live session OR up to an hour before, you are NOT guaranteed to receive the live link for that day. However, you will receive the recording when it is sent out to all registrants.
*One registration covers all sessions.
*Registrants will be able to attend online.
*Recordings for the classes will be available to online registrants.
*If in-person registrants cannot attend class in person for some reason, they must email ahead of time to receive the zoom link.
*If you're in need of financial aid, please email [email protected] with the subject "Winter 2023 Financial Aid" and we'll get back to you inshaAllah!
*Course Dates*
February 6, 2023
February 13, 2023
February 20, 2023
February 27, 2023
March 6, 2023
March 13, 2023
---
Location:
Al Falah Islamic Center
881 Route 206
Bridgewater Township , New Jersey 08807 United States
+ Google Map

---
More upcoming events