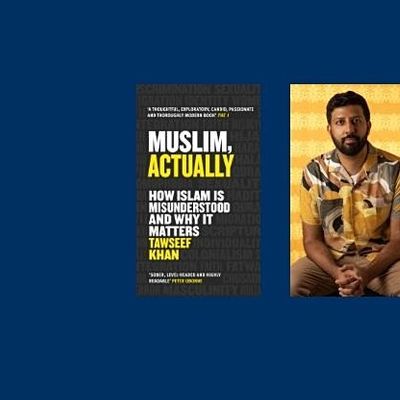 Description:
Join us for the launch of Tawseef Khan's MUSLIM, ACTUALLY – a provocative exploration of what it means to be a Muslim today.
We're delighted to be welcoming Tawseef Khan back to the shop for the launch of the MUSLIM, ACTUALLY: How Islam is Misunderstood and Why It Matters. Tawseef will be in conversation with writer and poet Afshan D'souza-Lodhi.
About the book:
Across western societies, Muslims are perhaps more misunderstood than any other minority. How did we get here? In this landmark book, Tawseef Khan draws on history, memoirs, and original research to show what it is really like to live as a Muslim in the West. With unflinching honesty, he dismantles stereotypes from inside and outside the faith and explores why many are so often wrong about even the most basic facts. Bold and provocative, Muslim, Actually is both a wake-up call for non-believers and a passionate new framework for Muslims to navigate a world that is often set against them.
"I can't recommend this sober, level-headed, and highly readable book too highly. It painstakingly dismantles the poisonous myths about Muslims spread in the British media and on the far right. I read it at a sitting and learned something new from every page"― Peter Oborne, author, and journalist
About the author:
Tawseef Khan is a qualified solicitor specializing in immigration and asylum law and a human rights activist with over ten years of experience working on refugee and Muslim issues. In 2016 he obtained a doctoral degree from the University of Liverpool, where his thesis explored the fairness of the British asylum system. He was a recipient of a 2017 Northern Writers Award. He is a Muslim and lives in Manchester.
Afshan d'Souza-Lodhi was born in Dubai and bred in Manchester. She is a writer of scripts and poetry and was recently commissioned to write and direct a short film for Channel 4 (An Act of Terror) and a radio play for BBC Sounds (Chop Chop). Afshan is currently a Sky Writes writer-in-residence for Rotherham, a partnership between Sky Studios and New Writing North. She is also currently developing a TV series with Sky Studios. Afshan has edited many anthologies and has an essay featured in Picador's collection by Muslim women called Its Not About The Burqa. Her debut poetry collection: desire' (Burning Eye Books) has been longlisted for the Jhalak Prize (2021).
Tickets are £3.00 or free when pre-ordering a copy of the book. MUSLIM, ACTUALLY will also be available to purchase on the night and Tawseef will be signing copies after the talk. If you would like a signed copy but cannot make the event, please contact us on 0161 274 3331 or [email protected] and we can arrange this for you. You may also like the following events from Blackwell's Bookshop Manchester:
Happening on, 12th January, 06:30 pm, Cosmic Messengers – Public Lecture with Professor Tim O'Brien in Manchester
Happening on, 13th January, 06:30 pm, Beth Underdown – THE KEY IN THE LOCK Book Launch in Manchester
Happening on, 21st January, 06:30 pm, Cynthia Murphy – WIN, LOSE, K*ll, DIE Book Launch in Manchester
Also check out other Arts Events in Manchester, Literary Art Events in Manchester, Entertainment Events in Manchester.
Tickets
Tickets for MUSLIM, ACTUALLY – Tawseef Khan in conversation with Afshan D'souza-Lodhi can be booked here.
Book and ticket – GBP 10
---
Location:
Blackwell's Bookshop
146 Oxford Road
Manchester , United Kingdom
+ Google Map

---
More upcoming events