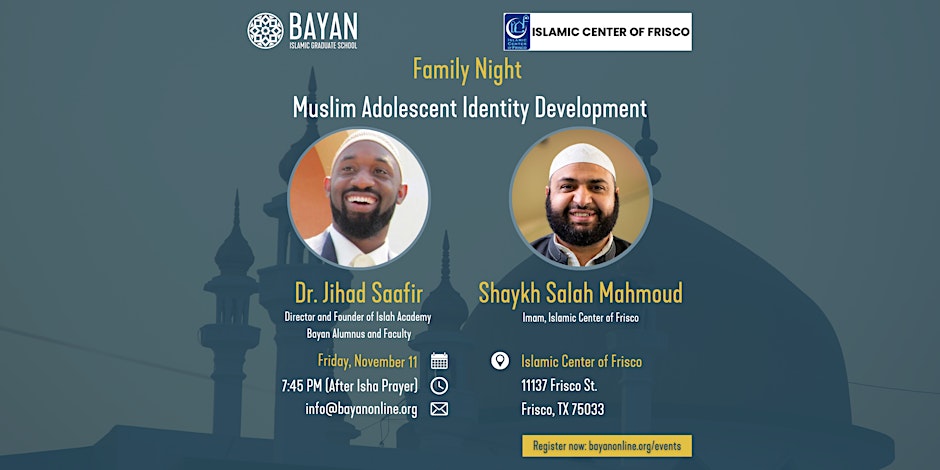 Description:
Muslim Adolescent Identity Development | Dr. Jihad Saafir
An examination of adolescent development and its implication on religious identities.
This talk will equip attendees with an understanding of adolescent development and how identities, in particular religious identities, are adopted, supported, and neglected. Furthermore, various environmental factors that impact Muslim adolescent identity development will be explored.
A recurring theme throughout this topic is that the survival of one's religious identity hinges on socializing agents (community members, peers, Muslim parents, Muslim teachers, etc.) that are well equipped to construct environments that foster healthy transitions into adulthood.
About Dr. Jihad Saafir
Dr. Jihad Saafir is the resident Imam and the Founding Executive Director for Islah Academy, a K-8 Islamic private school based in Los Angeles. He has a Ph.D. in Practical Theology from the Claremont Graduate School of Theology and earned his Master's Degree in Islamic Studies and Leadership from Bayan Islamic Graduate School in 2014 and is now a faculty member.
About Bayan Islamic Graduate School
Bayan (www.bayanonline.org) is a non-sectarian Islamic institution of higher education that offers accredited graduate degrees in Islamic Studies and Islamic Chaplaincy. Its mission is to offer a world class education that produces dynamic leaders and scholars grounded in the Islamic tradition.
Since opening in 2011, 70 students have graduated from Bayan and with an expected enrollment that exceeds 100 students in 2022 for the first time ever. Bayan's focus is to develop the next generation of Muslim American leaders who will serve as chaplains, imams, educators, and community leaders who make an impact in their communities. Bayan also prepares its graduates to help instill a commitment to Islam among our youth.
---
Location:
Islamic Center of Frisco
11137 Frisco Street
Frisco , Texas 75033 United States
+ Google Map

---
More upcoming events