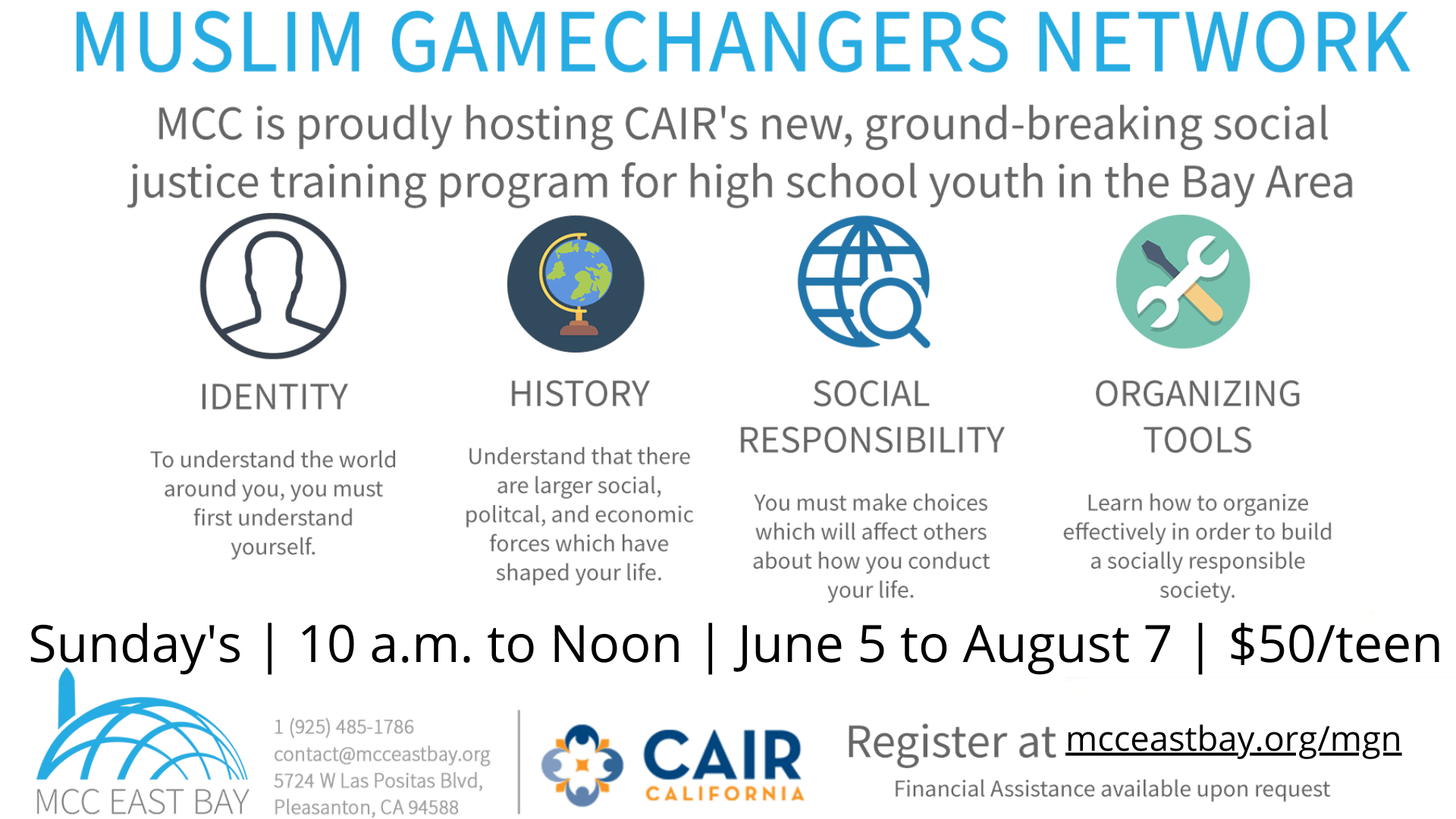 Description:
For Bay Area Muslim high schoolers, this 10-week interactive summer social justice training program hosted at MCC East Bay in Pleasanton equips teens with tools to critically understand their world, effectively challenge injustice & build legacies of positive change in our communities. Hosted at MCC, lunch is included weekly in this empowerment training grounded in a positive Islamic worldview.
10 a.m. to noon | Sundays | June 5 to August 7 | $50/teen (financial waivers available) | MCC Conference Room | Register by emailing San Francisco Bay Area's Usmaan Alloo at [email protected]
Watch session recordings at mcceastbay.org/mgn
Sunday, June 5, 2022: Welcome, The Politics of Personhood & Exploring Identity (Ayesha Hamid)
Sunday, June 12, 2022: Power: Stereotypes & Knowledge (Maimoona Afzal Berta)
Sunday, June 19, 2022: Know History, Know Self (Fatima Mekkaoui)
Sunday, June 26, 2022: Know Family, Know Self (Usman Aloo)
Sunday, July 3, 2022: Engaging Local Government (Aziz Akbari)
Sunday, July 10, 2022: No session (Eid al-Adha holiday break)
Sunday, July 17, 2022: Social Movements & Community Organizing
Sunday, July 24, 2022: Capitalism & Consumerism
Sunday, July 31, 2022: Community Organizing Plan Presentation
Sunday, August 7, 2022: Graduation
Sponsored by CAIR-SFBA & MCC East Bay. Please email [email protected] if you need the fee reduced or waived for financial reasons.
MGN is a social justice training program for Muslim high school students that equips participants with the tools to critically understand their world, effectively challenge injustice, and build legacies of positive change in their communities. The program consists of weekly interactive sessions centered on themes of identity, history, social responsibility, and organizing tools, all grounded in an Islamic worldview.
The standard fee to become a member of the Muslim Gamechangers Network is $50, and payment must be received by the first day of the program to complete your registration. The MGN Membership fee helps us sustain this comprehensive empowerment project for our youth, including the cost of materials, staff time, and field trips.
The deadline to apply is on Sunday, May 29, 2022.
Questions? [email protected]
---
Location:
Muslim Community Center - East Bay (MCC East Bay)
5724 W Las Positas Blvd #300
Pleasanton , California 94588 United States
+ Google Map

---
More upcoming events