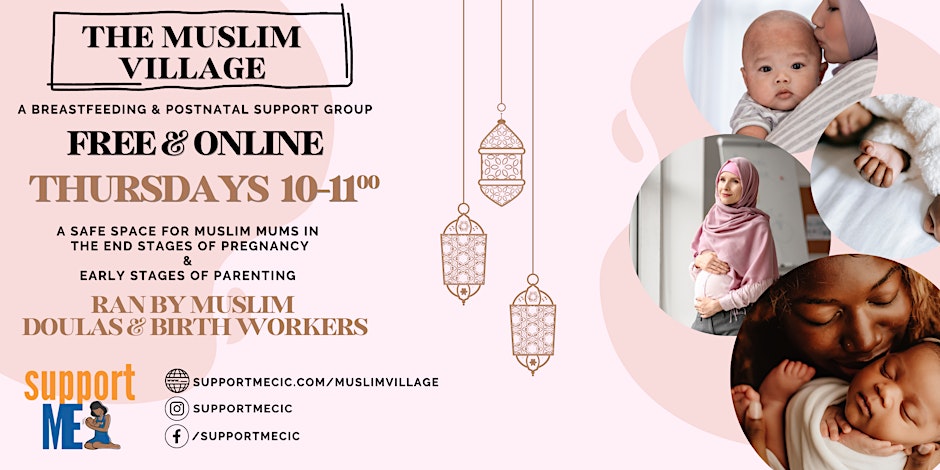 Description:
Assalaamu alaykum sister!
This is for you if you're pregnant or have a little one and would like support with breastfeeding and life after birth. Have you experienced challenges since having your baby?
The Muslim Village is a safe and non-judgmental space where you can talk openly about your parenting struggles and get evidence-based support from Muslim doulas and perinatal professionals.
About the group:
Are you pregnant and worried about breastfeeding or looking after a newborn?
Are you struggling with breastfeeding or early parenting?
Are you looking for ways to help with self-care and your emotional wellbeing?
Are you looking for a community where you can speak openly about parenting knowing there is a trained professional to help you?
Make a cuppa and join us EVERY THURSDAY at 10am (via Zoom) for a chat about all things breastfeeding and early parenting and join the Muslim Village.
(DISCLAIMER: To register for this event, you also consent to be added to the Muslim Village mailing list – which you can unsubscribe to at any time)
About Support ME Maternal Project CIC
We're a grassroots organisation run by amazing volunteers offering emotional and practical support from pregnancy and beyond.
We believe all families, whatever their background, should get access to evidence-based information and non-judgemental support – throughout pregnancy, birth and parenting.
We offer support to parents, which includes postnatal and breastfeeding groups, 1:1 support, workshops and an online community.
We listen, guide, educate and mentor parents so they can feel confident and make the right choices for them and their family, whilst also considering their cultural background.
This is a free group, but we would really appreciate you buying a donation ticket with as little as £1 to put towards Support ME and Muslim Village.
To find out more click here about Support ME Maternal Project, click here.
---
---
More upcoming events