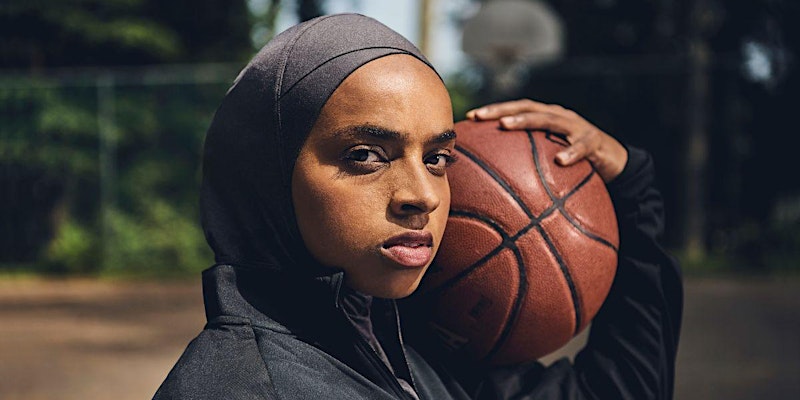 Description:
Join us on Friday 12th November in conversation with Bilqis Abdul-Qaadir to discuss and explore the impact of Muslim Women in Sports.
Join us at 7 PM GMT on Friday 12th November in conversation with our guest speaker, Bilqis Abdul-Qaadir, to discuss and explore the impact of Muslim Women in Sports.
From a young age, Bilqis Abdul-Qaadir knew she wanted basketball to be a part of her life. After first picking up a ball at the age of four at a local YMCA, Bilqis' love for the game began. Living in a practicing Muslim household, Bilqis was to follow her religious beliefs as she grew older. She began wearing a hijab, a traditional head covering for Muslim women and practiced modesty on the court by covering all skin except her hands. She parlayed her skills into a full-ride scholarship to the University of Memphis where she played four years (2009-13) and graduated magna cum laude with a degree in exercise science.
Her goal was to continue playing professionally in Europe but quickly ended due to the International Basketball Federation (FIBA) rule prohibiting headgear larger than five inches. Unwilling to stray in her beliefs, Bilqis chose faith over basketball and became an advocate working alongside other Muslim players who began a Change.org petition and with Shirzanan Media and Advocacy Organization as an Athlete Ambassador. Through an op-ed published by TIME, an open letter signed by Olympic, retired and professional athletes, high-level speaking engagements, and interviews with BBC Sport – and their 55 million-strong audiences, Bilqis raised her voice for the next generation and effectively forced FIBA to uplift the ban.
Bilqis is currently living in London, Ontario, Canada with her husband working at London Islamic School. They also run their basketball program called Dribbling Down Barriers, hosting camps in clinics for the youth in the US and Canada.
---
---
More upcoming events