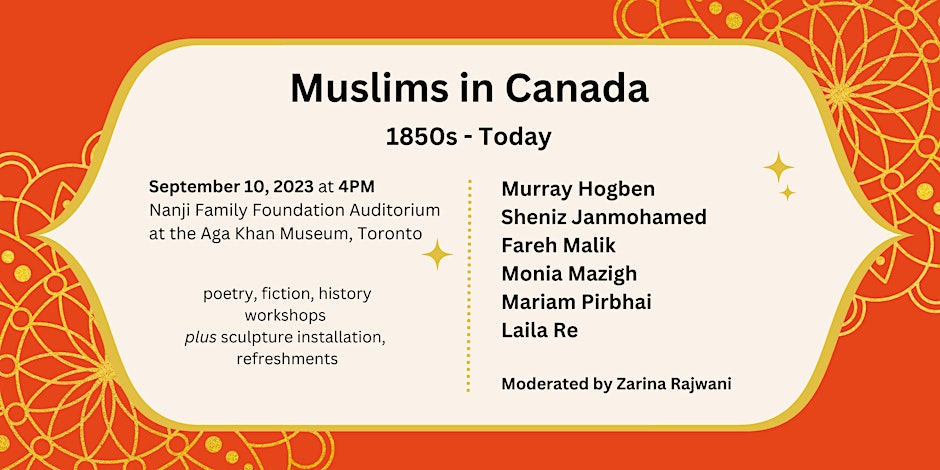 Description:
Six Muslim authors discuss Muslim presence in Canada, from the early days when immigrants arrived from Lebanon/Syria to the present, to new immigrants arriving from around the world and young Canadian Muslims born here. Two artists display their sculpture installation inspired by the folk stories of Sindh.
Limited capacity. Tickets required for entry.
Murray Hogben (historian) was born in Toronto in 1935 and grew up in Ottawa. Working for the CBC in Toronto, he became secretary in 1960 of the new Muslim Society of Toronto for years. He is the author of the ground-breaking Minarets on the Horizon, the first history of Muslim presence in Canada.
Sheniz Janmohamed is the author of several volumes of poetry. She is a firm believer in fostering community through collaboration, compassion and creativity. Sheniz has performed her work in venues across the world, including the Jaipur Literature Festival, Alliance Française de Nairobi and the Aga Khan Museum.
Monia Mazigh was born and raised in Tunisia and immigrated to Canada in 1991. Monia was catapulted onto the public stage in 2002 when her husband, Maher Arar, was deported to Syria where he was tortured and held without charge for over a year, and was exonerated. She has campaigned vigorously for the rights of Muslims; her recent book, Gendered Islamophobia: My Journey with a Scar(f) details her experiences. She is also the author of two novels, Mirrors and Mirages, and Hope Has Two Daughters.
Mariam Pirbhai (novelist) is the author of the short story collection Outside People and Other Stories, winner of the 2018 IPPY Gold Medal for Multicultural Fiction and the 2019 American BookFest Award for the Short Story. It also ranked among CBC's top ten "must read" books of 2017. Isolated Incident is her first novel. Mariam is a Professor of English at Wilfrid Laurier University.
Fareh Malik (poet), from Hamilton, Ontario, is the winner of the 2022 RBC/PEN Canada New Voices Award, Hamilton Art's Shirley Elford Prize, and Muslim Hands Canada's 2020 Poetry Contest. In 2023, Streams that Lead Somewhere was longlisted for the Gerald Lampert Memorial Award. Fareh tells the stories of his struggle and of the community around him in the hope that others can find inspiration and companionship in it.
Laila Re (novelist) escaped Kabul as a toddler with her family to Islamabad, Pakistan, before immigrating two years later to Canada in 1992, when she was five. Drawing from that experience, her most recent novel, Nila the Bleeding Garden, depicts the experiences of an Afghan family. Laila has also published three collections of poetry, Pieces to Peace, Soul Led, and Beauty and Love, and her personal essay "Kabul Dreams" was published in the anthology The Muslimah Who Fell to Earth.
Moderated by Zarina Rajwani
---
Location:
Nanji Family Foundation Auditorium, in the Aga Khan Museum
77 Wynford Drive
Toronto , Ontario M3C 1K1 Canada
+ Google Map

---
More upcoming events