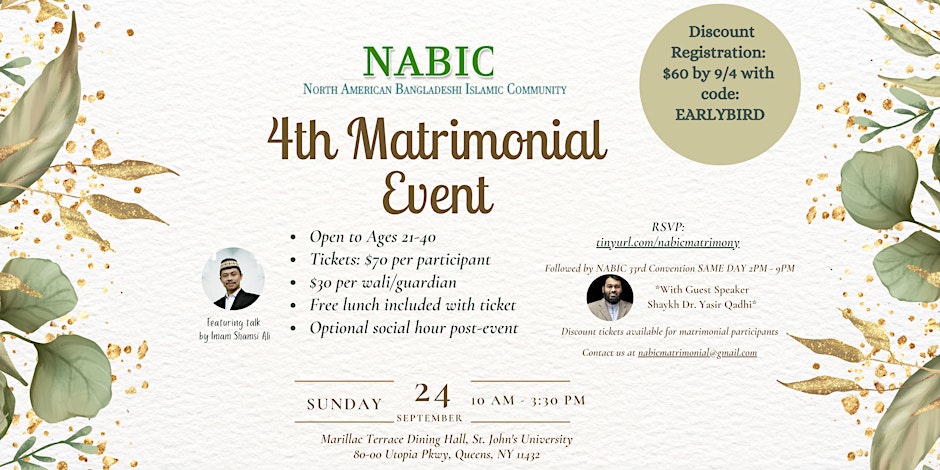 Description:
FREE LUNCH INCLUDED WITH TICKET
How it works:
Fill out the application using this link: tinyurl.com/nabicmatrimony
During the event day, participants sign in, receive a badge with a number, and then take a seat on either side of the room (one side of each table for females and the other for males). Each table will have four females and four males and one mediator to facilitate group discussion which will last 15 minutes. When announced, brothers will rise and rotate to the next table until everyone has a chance to meet. We will have a Zuhur prayer break, followed by lunch.
Before the discussions begin, every participant is given a pen and paper to note the number from the badge of anyone they find interesting. The badge number corresponds to the profile/ biodata that you submitted with your registration. All submitted profiles / biodata will be posted in the room, so you may review and consider anyone you've met during the rounds. There will be an optional "Social Hour" in which participants are able to approach each other and request an individual meeting (with mehrams, if present). Profiles / biodata will only be posted in the room during the event. They will NOT be shared with participants electronically or by any other means other than physically posted at the event venue. NABIC will not respond to requests for contact information for any participant.
About NABIC
North American Bangladeshi Islamic Community (NABIC) is a nonprofit 501(c)(3) non-partisan organization whose mission is to improve the conditions of Bangladeshi and North American Muslims through a unique, holistic approach. Over the years, NABIC has expanded to serve more communities, becoming a premier organization committed to uplifting the circumstances of those in need, while prioritizing the needs of the most vulnerable of those societies, irrespective of race or religion. Through ongoing projects in nearly every field, ranging from healthcare to education to poverty alleviation and emergency relief/rehabilitation, NABIC strives to cover every base of improvement, highlighting the holistic approach we have adopted.
Learn more at https://nabic.org/
We look forward to serving you. Should you have any questions or concerns, please contact [email protected] .
TERMS AND CONDITIONS:
• I confirm that I am 21 years old or older.
• I certify that I am unmarried.
• I hereby certify that the information I am to provide is true, correct, and complete in every respect.
• I will promptly inform NABIC Matrimonial service of any changes in the information provided.
• I authorize NABIC Matrimonial service to utilize the information provided by me according to the needs of the service.
• I pledge to keep all the information given to me by NABIC Matrimonial confidential.
• I promise to inform NABIC Matrimonial Services as soon as a marriage takes place.
• I will not hold NABIC responsible in the case that a potential match provides false information.
• I understand that this service serves as a platform only to connect families together and that each family is responsible for conducting a background check on potential candidates.
• I understand that all guests must treat each other with respect and courtesy. If a guest becomes rude, offensive, unprofessional, inappropriate, NABIC reserves the right to refuse admission or to expel the guest.
• I understand that there is a no-refund policy for this event
---
Location:
Marillac Terrace Dining Hall, St.Johns University
80-00 Utopia Parkway Queens
Queens , New York 11432 United States
+ Google Map

---
More upcoming events