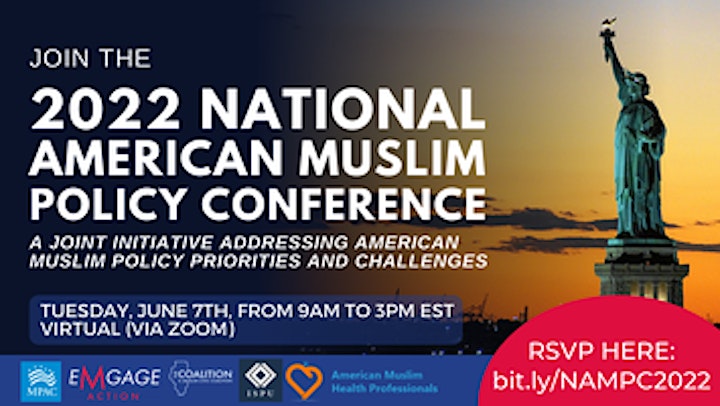 Description:
A joint initiative addressing Muslim Policy Priorities and challenges
The National American Muslim Policy Conference is a joint initiative by Muslim Community leaders and experts addressing Muslim Policy Priorities and challenges.
This joint initiative by the American Muslim Health Professionals (AMHP), Institute for Social Policy and Understanding (ISPU), IL Muslim Civic Coalition (the Coalition), Muslim Public Affairs Council (MPAC), and Emgage Action, aims to bring together policymakers and community leaders to craft a comprehensive, realistic policy agenda.
This premier event will be held virtually, bringing elected officials, Muslim organizations, experts, community members, and leaders from across the nation to discuss our community's policy priorities and needs. Our goal is to underscore the power of our collective impact, to uplift the American Muslim voice, and provide meaningful solutions to the complex issues our communities face.
The challenges the Muslim community faces include translating our representation/electoral prowess into policy change, the need for growth and collaboration across community organizations, and keeping our communities informed and engaged.
The National American Muslim Policy Conference (NAMPC) will be an annual conference to address civic needs, strengthen the connection to the community, activate community voice, and co-create the movement-building strategies needed to make long-term change possible and drive collective impact.
Date: Tuesday, June 7th 2022
Time: 9:00 AM-3:00 PM EST
Location: Zoom link sent upon Registration
The convening organizations are a part of the Community Collaborative Initiative, a community-based action research project hosted by Indiana University's Lilly School of Philanthropy focused on building collaborations towards a collective impact.
ASL Interpretation will be available upon request. Please contact organizers for reasonable accommodation requests by May 20th, 2022
Contact information entered into this form will be shared with the National American Muslim Policy Conference planning partners at ISPU, Emgage, MPAC, AMHP, and IL Muslim Civic Coalition.
---
---
More upcoming events