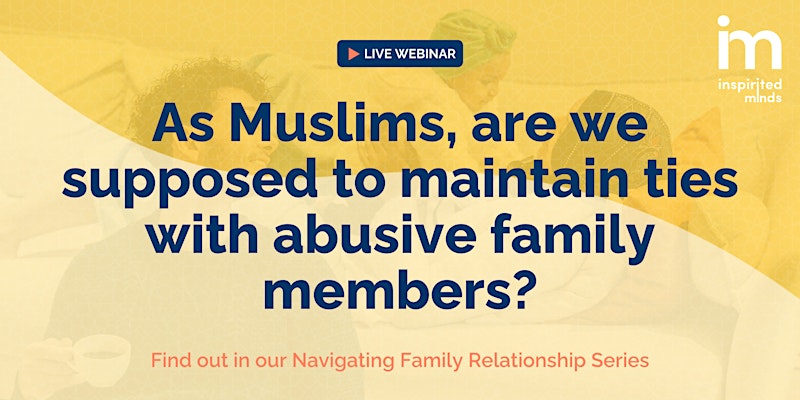 Description:
This is a 2-part webinar on Navigating Family Relationships within Muslim Communities. This series takes place for 4 hours across 2 days.
"The person who perfectly maintains the ties of kinship is not the one who does it because he gets recompensed by his relatives (for being kind and good to them), but the one who truly maintains the bonds of kinship is the one who persists in doing so even though the latter has severed the ties of kinship with him." [Al-Bukhari]
Family relationships are at the heart of Islam and maintaining ties is a central theme in the life of a Muslim. However, it may not always be easy to maintain a relationship with a family member or relative, especially if the relationship is unhealthy, unsupportive or abusive. Identifying such a relationship is not often the hard part, but rather how to resolve the issues and conflicts arising can have a huge impact on mental health and wellbeing for the entire family.
Islam is a collectivist religion and we should pride ourselves on how we, as an Ummah (community), are like one body. It is therefore our collective social responsibility to understand how to help ourselves and those around us when navigating difficult family relationships.
By attending this webinar, you will be contributing towards the mission of improving the mental health and wellbeing of the Ummah, In Shaa Allah! You will also receive a certificate of attendance.
Dates and Times:
Part 1: Saturday, 18th June, 11am-1pm
Part 2: Sunday, 19th June, 11am-1pm
By attending Part 1 and Part 2 of this webinar, you will learn about:
The concept of family dynamics and how to identify familial difficulties and unhealthy relationships
Understanding what Islam says about how to maintain healthy relationships and resolve conflicts
What the Prophets of Islam have done before us to cope with such difficulties and resolve familial conflicts
Some key characteristics to implement Islamic teachings into practice when it comes to family relationships
Practical and spiritual advice on how to better mental health and wellbeing, and where to obtain additional support or information
---
---
More upcoming events