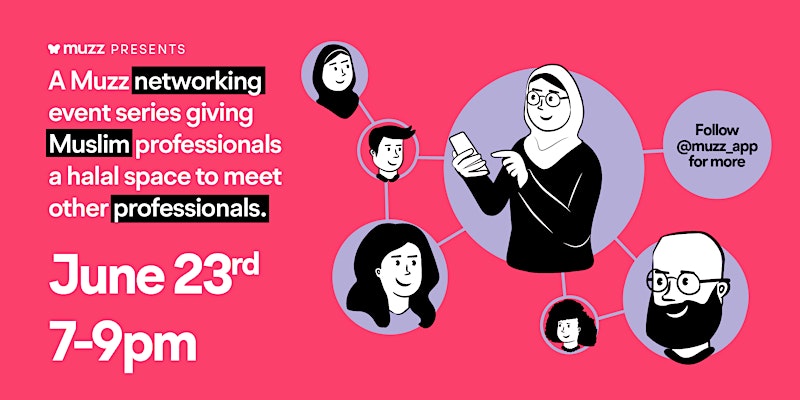 Description:
Networking Night for Muslim Professionals
Ever felt like you're missing out on most networking events because you feel excluded? Want to make more connections in your professional career? Or are you just hoping to meet likeminded folks that share the same spiritual values and work in your industry? This is the event for you!
This event is part of a series of professional events where Muzz (formerly muzmatch) is offering a safe and halal space for Muslims to network with likeminded individuals.
Who's Speaking
Join us for a short discussion with USHub co-founder, Sohaib Ali and Muzz founder, Shahzad Younas to learn about media platforms created by Muslims for Muslims. Afterwards, stay for the light refreshments and connect with other Muslim professionals!
Who's It For
Whether you're a novice starting out in your career or maven with years of experience, there's value that can be gained from attending our networking series. We are open to all of those that align themselves to the Muslim community and only ask that you bring an open mind and a desire to meet new people!
Who knows – you might find your next investor, partner, employer, or employee!
Ticket Info
FREE ADMISSION for Muzz members with proof of profile at the door
$15 for non-Muzz members.
What to Expect:
7:00PM – Arrive early and grab a refreshment
7:30PM – Fireside chat with Shahzad Younas (Muzz founder) + Sohaib Ali (USHub cofounder)
7:45PM – Q&A
8:00PM – Time to network!
9:00PM – Grab any last-minute business cards because it's the end of the event!
Terms and Conditions:
Please note, when attending this event you may be photographed or videotaped during your experience. By entering, you grant Muzz permission to use this material for publicity, advertising, or other purposes.
---
Location:
WorkHouse NYC
21 West 46th Street
New York , New York 10036 United States
+ Google Map

---
More upcoming events