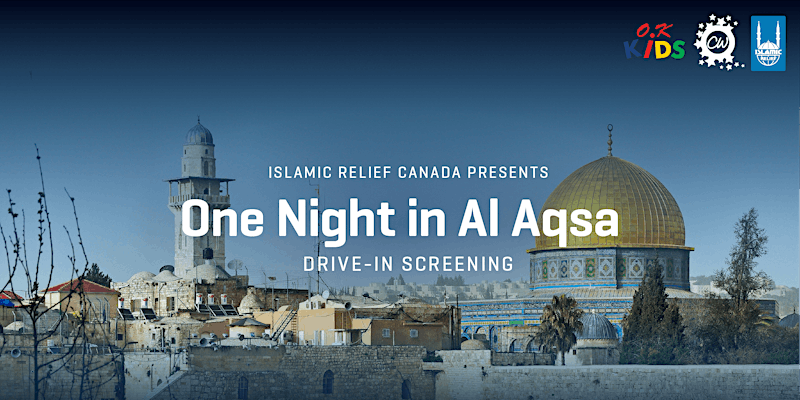 Description:
Join us with your families for a breathtaking movie that uncovers the mysteries of Al-Aqsa mosque!
About this event
Drive-In Movie Screening to Support Orphans and Needy Children this Charity Week
Join us for an exclusive screening of One Night in Al-Aqsa on October 30th in Montreal. Buckle up with your loved ones and drive in to this family-friendly film to uncover the mysteries of Al-Aqsa, one of the holiest and most-beloved mosques in the world.
All proceeds from this event will go towards supporting Orphans and Needy Children.
All COVID-19 safety measures will be in effect during the showing. Snacks will be provided! (1 bag of popcorn and 2 soft drinks)
———————————————
Venez avec vos familles pour un film à couper le souffle qui dévoile les mystères de la mosquée Al-Aqsa !Une projection exclusive de "One Night in Al-Aqsa" le 30 octobre à Montréal. Attachez votre ceinture avec vos proches et dirigez-vous vers ce film familial pour découvrir les mystères d'Al-Aqsa, l'une des mosquées les plus saintes et les plus appréciées au monde.
Tous les profits de cet événement serviront à soutenir les orphelins et les enfants nécessiteux.
Toutes les mesures de sécurité COVID-19 seront en vigueur pendant la projection. Des collations seront fournies! (1 sac de pop-corn et 2 boissons gazeuses)
About the Movie
Acclaimed Director Abrar Hussain, who brought you One Day in The Haram and produced the Oscar-nominated movie The Look of Silence, brings you the never before told narrative of Al-Aqsa.
This breathtaking documentary shares the profound story of the Al-Aqsa compound in Jerusalem.One Night in Al-Aqsa gives an insight into one of the holiest, yet most mysterious sites in all of Islam. Al-Aqsa is a place of miracles, an incredible site that has aided in defining Islam as the religion it is today.
———————————————–
À propos du film
Le réalisateur acclamé Abrar Hussain, qui vous a apporté "One Day in The Haram" et produit le film nominé aux Oscars The "Look of Silence", vous apporte le récit jamais raconté d'Al-Aqsa. Ce documentaire à couper le souffle raconte l'histoire profonde du complexe d'Al-Aqsa à Jérusalem. Une nuit à Al-Aqsa donne un aperçu de l'un des sites les plus saints et les plus mystérieux de tout l'Islam. Al-Aqsa est un lieu de miracles, un site incroyable qui a aidé à définir l'islam comme la religion qu'il est aujourd'hui.
---
Location:
O K Kids
200 Boulevard Lebeau
Montréal , QC H4N 1R4 Canada
+ Google Map

---
More upcoming events