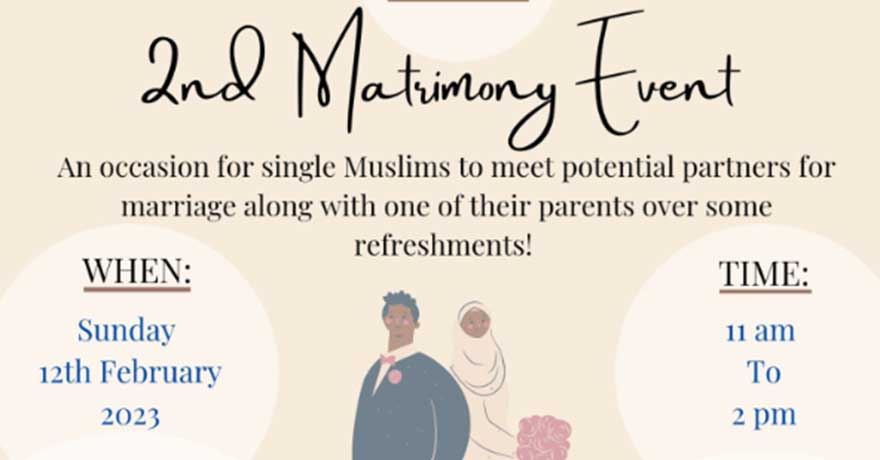 Description:
'One Soul Matrimony' is an earnest endeavor to facilitate the process of finding a spouse for our Muslim brothers and sisters in the Greater Toronto Area. We understand how challenging it is for parents/guardians to find a suitable mate for their children and would like to ease their search with this platform Insha'Allah.
What we do:  We organize 'Matrimonial Events' from time to time in the city of Toronto. Our first event was on Saturday,15th October 2022, and it was a great success Alhumdulillah! At the event, our participants met with potential partners in the presence of their parents/guardians and enjoyed some refreshments together. Around 5 participants were able to find a good match and were connected by us to further pursue their interest MashaAllah!
Our next event will be on 12th February 2023 InshaAllah. Details of the event will be shared closer to the event. A non-refundable fees of $25 per applicant will confirm their spot at the event. Also, in order for more participants to benefit from our event, we will be allowing only one parent/guardian to accompany the applicant. Please note an additional fees of $25 is applicable to every parent/guardian who is also attending the event. Kindly add the name of the participant in the e-transfer details so we know who the individual is.
We respect the privacy of our applicants and assure you that all pictures and registration forms will remain in our database for our reference only and will not be shared with anyone without consent. May Allah (swt) accept our efforts and bless everyone with righteous partners. Ameen.
---
Location:
Amana Conference Centre and Banquet Hall
2855 Markham Rd, Toronto
M1X 0C3 , Ontario Canada
+ Google Map

---
More upcoming events