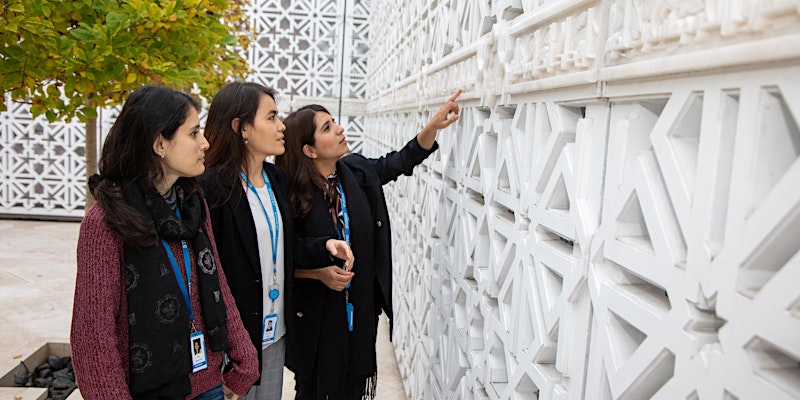 Description:
An online short course run over six sessions that aims to introduce key themes in the study of Islam and Muslims.
Welcome to Introduction to the Study of Islam and Muslims, a short course offered by the Aga Khan University Institute for the Study of Muslim Civilisations (AKU-ISMC).
Course outline:
This is an online short course run over six sessions that will introduce key themes in the study of Islam and Muslims. It aims to illustrate how Islamic traditions have developed over time and the key texts that different thinkers have referred back to as they attempted to articulate different visions of Islam. We aim to treat both Islam and Muslims as 'open variables', that is, we do not aim to approach the material with a preconceived definition of what Islam really is, but interpret how individuals define ideas and practices as Islamic and themselves and others as Muslims or non-Muslims. Teaching will take the form of lectures interspersed with group work, accompanied by class discussions and readings.
Course Convenor:
Professor Philip Wood is a historian of the Middle East at the Aga Khan University Institute for the Study of Muslim Civilisations (AKU-ISMC). He is the current holder of the endowed Tejpar Chair in Interreligious Studies. He has written widely on the histories of religious minorities in the caliphate and on the experience of Muslims as minorities in Britain. Together with Leif Stenberg, he has recently published What is Islamic Studies? . He is also editing a second volume on Muslim and non-Muslim religious minorities in the Abbasid caliphate. His third monograph, on the Abbasid-era intellectual Dionysius of Tel-Mahre, has just been released with Princeton University Press.
Lecture One: Muhammad, the Quran, and their context
This session discusses different source bases for the emergence of Islam and how they might be reconciled. We will briefly examine the Quran, the hadith (the sayings attributed to Muhammad), the Sira (Muhammad's biography), and the seventh-century reports by Middle Eastern Christians. We will survey different contemporary academic approaches to early Islam, which offer a range of possible contexts to understand the Quran.
Lecture Two: The Caliphate and the ulama
This session introduces two key developments of the first two centuries after Muhammad. The first of these is the caliphate: the caliphs represented themselves as Muhammad's successors and ruled an empire based first in Damascus and then in Baghdad. The caliphs played a crucial role as sponsors of the hajj; leaders of the jihad against Byzantium and other non-Muslim opponents and as creators of Islamic law. However, their role as legislators for the Muslim community came to be challenged by religious scholars and the second development that we examine here is the rise of the ulama as a major challenge to caliphal authority.
Lecture Three: Islam and the global context: re-defining religion
Scholars and laypeople often employ the term 'religion' as if it's an obvious category with a commonly-agreed definition. But this terminology is actually contentious: religion has been re-classified in each generation according to criteria that are decided by powerful 'trend-setters', frequently the rulers of empires. This session examines how Protestant Christian assumptions have determined how other religions are classified and we consider the significance of this for Muslims and scholars of Islam.
Lecture Four: Orientalism and its Critics
European imperialism in the eighteenth and nineteenth centuries was a major challenge for Muslims. But imperialism was not limited to political control, it also extended to 'academic imperialism', through which imperial powers surveyed and classified native writings and sought out native informants. The work of Edward Said argues that imperialists used this knowledge to re-write the laws of their subject peoples and generate stereotypes their new subjects came to internalize. This session examines Said's work; situates it within broader scholarly trends and examines how it has been employed and contested.
Lecture Five: Muslim Modernism
Muslims responded to the challenges of the nineteenth and twentieth centuries in many different ways. Some, such as the Wahabbis of Arabia, asserted that Muslims should avoid all support for non-Muslims or use of non-Muslim ideas. Others sought to show how innovations produced in Europe, such as the ideas of Marx or Darwin, or European feminists could be reconciled with the Quran if understood properly. Part of the context for Muslim modernism should be understood as the struggle between Muslims with scientific or technical training and the traditional ulama.
Lecture Six: Islamism and its opponents
The late 1970's saw a major shift in the political salience of Islam with the establishment of the Islamic Republic of Iran. Subsequent events saw Muslims in Asia, Africa, and the diaspora increasingly attracted to different forms of religious politics as the appeal of socialism and communism faded and Saudi Arabia became increasingly important as an incubator of Islamist groups like the Muslim Brotherhood. This session examines the relatively recent 'religiofication' of Muslim politics and the imagination of a 'Muslim world' that is contrasted with 'the West'. We conclude our study by looking briefly at the recent phenomena of al-Qaeda and ISIS.
Timings
Lectures will take place 13:00 PM till 15:00 PM GMT (London Time) on the 21st, 23rd, 25th, 28th, 30th, and 31st March 2022.
If you require any further information please email [email protected].
---
Location:
Online from AKU-ISMC
AKU-ISMC
London , N1C 4DN United Kingdom
+ Google Map

---
More upcoming events