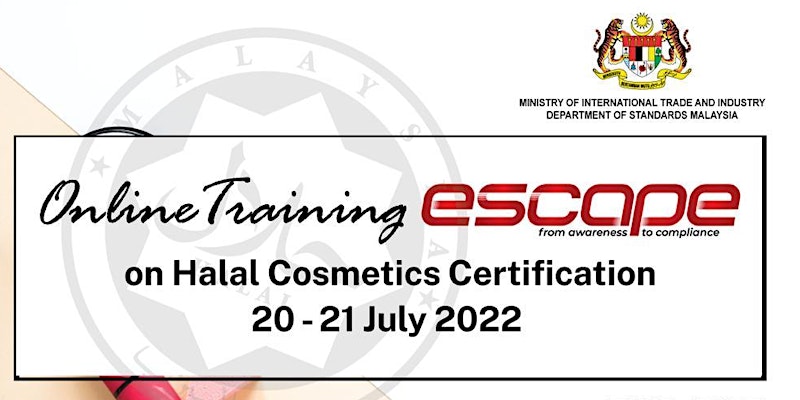 Description:
We are inviting beauty and cosmetics entrepreneurs who are intended to get knowledge on Halal Cosmetics Certification to join our training.
The Department of Standards Malaysia (JSM) under the Ministry of International Trade and Industry (MITI) is cordially invited you to join our Online Training on Halal Cosmetics Certification.
Under the Standards Compliance Stewardship Programme for Enterprises (ESCAPE), this training aims for micro, small and medium entrepreneur (MSME) in cosmetics industry to enhance their competency in providing services to public. Selected companies will undergo our series of structured course towards Halal Cosmetics Certification based on MS 2634:2019.
The MS 2634:2019 – Halal Cosmetics has been developed to meet the challenges of the growing demand for halal products and services to complement the halal ecosystem within Malaysia. Obtaining halal certification is a business strategy and is seen as a value-added element.
This training will be delivered by halal cosmetics expert recognised by Jabatan Kemajuan Islam Malaysia (JAKIM). The content of this training includes an explanation on:
Management responsibility
Materials
Hygiene, sanitation, and safety in the manufacturing
Preparation of materials
Manufacturing, handling, and distribution
Packaging, labeling, and advertising
Legal requirements
Register now…
https://docs.google.com/forms/d/e/1FAIpQLSdL8jKPi62K40IzClruD0HwDVbC00Q0e43SwT3L3CdQ6LwJjw/viewform
---
---
More upcoming events