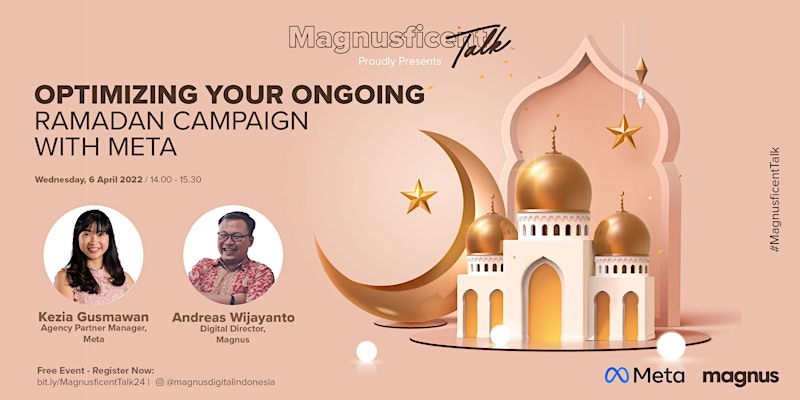 Description:
We cordially invite you to an exclusive sharing session to optimize your Ramadan campaign!
#MagnusficentTalk is here to get you updated about "Optimizing Your Ongoing Ramadan Campaign with Meta"
Welcoming the festive season with the right digital strategy must have been on the list. Get to know what to prepare and what type of campaigns actually work on this 2022 Ramadan with Meta & Magnus.
Join us on the upcoming #MagnusficentTalk to get to know and learn about:
Understanding the Ramadan Consumer Insights
Full Funnel Framework for a Great Ramadan Campaign
Checklist for Creating a Successful & Effective Ramadan Campaign
Winning The Festive Season With Stand Out Innovation
Rundown
14.00 – 14.05 Opening
14.05 – 15.05 Expert Sharing Session with Kezia Gusmawan, Agency Partner Manager, Meta, and Andreas Wijayanto, Digital Director, Magnus
15.05 – 15.25 Discussion & QnA Session
15.25 – 15.30 Closing
*Event will be conducted in Bahasa Indonesia
**If any, please do sign up using your corporate email
***By registering for our webinars, you agree to receive emails and other communications from Magnus – Magnusficent Talk and its partners about products, services, and events that are related to your interest in digital marketing. You are free to withdraw this consent at any time.
---
---
More upcoming events