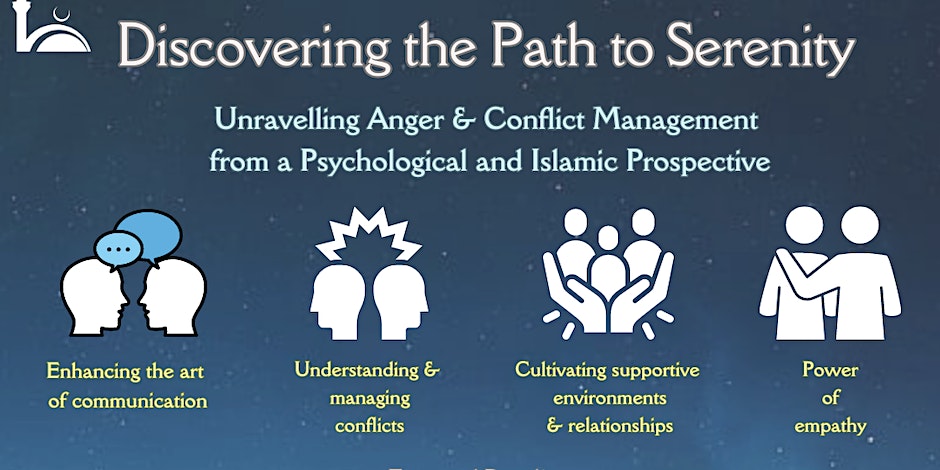 Description:
Discovering the Path to Serenity:
Unraveling Anger & Conflict Management from a Psychological and Islamic Perspective
Managing anger and conflict can be a formidable challenge in the hustle and bustle of our daily lives. Our emotions can sometimes get the better of us, leading to misunderstandings and heated confrontations with our loved ones, colleagues, and acquaintances. The way we regulate and express our emotions holds the key to how others respond to us. Misunderstandings, untold emotions, and poor communication skills can breed anger, giving rise to conflicts that may fracture our personal relationships and professional circles. To manage anger and resolve conflicts gracefully, effective communication and emotional regulation serve as cornerstones along the path to serenity.
Join us for an enlightening discussion as we explore Anger & Conflict Management from a psychological and Islamic perspective, unveiling the keys to fostering effective personal communication and serenity. With the teachings of Islam as our guiding light, this special panel will delve into the art of effective communication and emotional regulation and their pivotal roles in anger management, channelling your emotions constructively, and fostering harmonious relationships within your personal sphere.
? Date: Saturday, August 19, 2023.
?️ Time: After Asr prayer, 6:00 pm – 8:00 pm
? Venue: Ottawa Main Mosque (251 Northwestern Ave, Ottawa, ON K1Y 0M1)
The panel is free of charge!
Hosted by the Ottawa Muslim Organization and sponsored by The Social Sciences and Humanities Research Council.
(Refreshments will be offered!!)
---
Location:
Ottawa Muslim Association
251 Northwestern Ave
Ottawa , Ontario K1Y 0M1 Canada
+ Google Map

---
More upcoming events