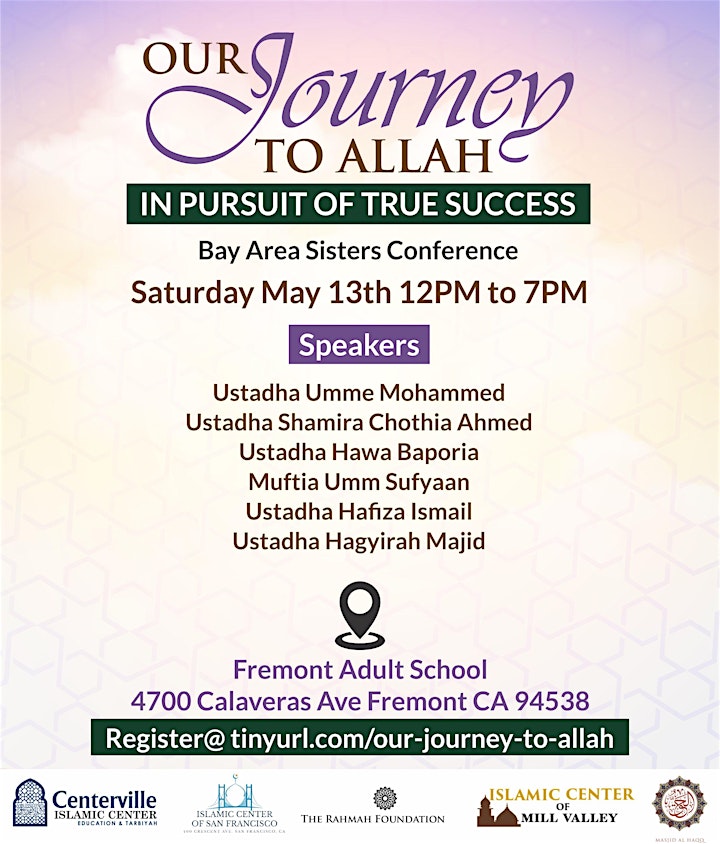 Description:
Alhamdulillah by the good grace and mercy of Almighty Allah, we are happy to present to you the first all sisters conference of 2023, " Our Journey to Allah, In Pursuit of True Success."
Please join us on May 13th, 2023 in Fremont for a discussion on various uplifting topics, with our local & visiting female scholars.
Our esteemed speakers will enlighten us on how to strengthen our connection with Allah SWT and how to navigate through the challenges Muslims in the West experience.
Lunch will be included. Please, do not miss out on this blessed and enlightening event. Conference seats will only be reserved for those who have reserved tickets. No admission/entry will be allowed to the conference without a ticket.
Please see below for further registration information(Registration is required).
We request sincere dua for the success of this conference, please share with one and all.
This conference is brought to you In partnership with Centerville Islamic Center, Islamic Center of San Francisco, The Rahmah Foundation, Mill Valley Islamic Center & Masjid Ul Haqq.
Full Schedule with agenda/topics will be shared/emailed few days before conference.
This conference is for SISTERS ONLY
JazakAllah Khair
---
Location:
Fremont Adult School
4700 Calaveras Avenue
Fremont , California 94538 United States
+ Google Map

---
More upcoming events