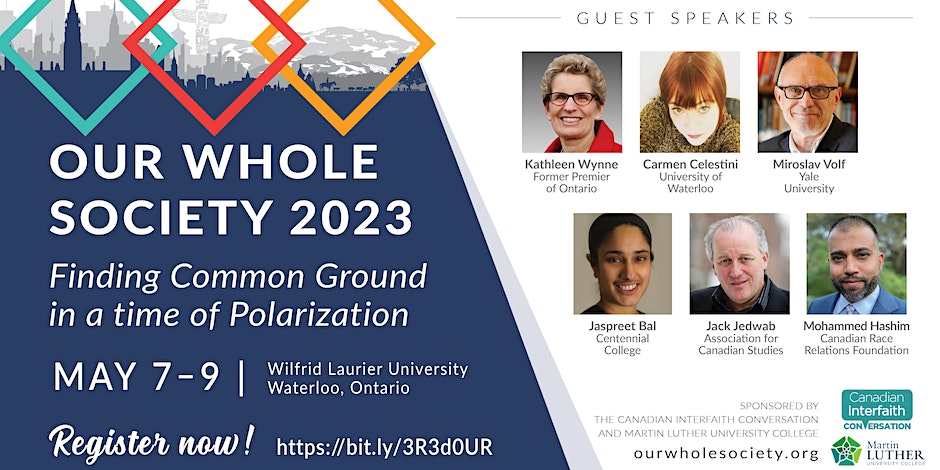 Description:
Polarization is a growing challenge in Canada. Over the past several years there have been new and deepening divisions across the country as we increasingly group people into "us" and "them". We see it in political debates and discussions around public policy while racism and religious intolerance represent some of its ugliest manifestations.
How can Canadians respond constructively in the face of disagreement? How do Canadians maintain an open and pluralistic society where different voices are welcome to contribute to a vibrant public sphere? Can religion be a source of insight to address these challenges?
On May 7–9, 2023, the in-person conference Our Whole Society: Finding Common Ground in a Time of Polarization at Martin Luther University College, Wilfrid University, Waterloo, Ontario will gather civic leaders, academics, students, religious leaders and engaged citizens to discern how we can build a more just society that excludes no one.
Our Whole Society will begin with a keynote presentation by former Premier of Ontario Kathleen Wynne on Sunday evening May 7 reflecting on the intersection of politics and religion in the Canadian context. This will be followed by two days of panels and workshops. exploring the landscape of polarization in Canada with insights on the current context and possible ways forward from Prof. Miroslav Volf, Henry B. Wright Professor of Theology at Yale Divinity School and Founder and Director of the Yale Center for Faith and Culture, Prof. John Milloy, Martin Luther University College, Director of the Centre for Public Ethics, Dr. Carmen Celestini, University of Waterloo and Fellow with the Centre on Hate, Bias and Extremism at Ontario Tech University, Prof. Ahmed Al-Rawi Simon Fraser University, Director of the Disinformation Project, Prof. David Hofmann University of New Brunswick, Director of Criminology and Criminal Justice Programme , Dr. Jaspreet Bal Centennial College, Chair of Child and Family Studies and Board Member of the World Sikh Organization (Canada).
The Conference will also be informed by the work of Canada-wide organizations with Dr. Jack Jedwab, President, Canadian Association for Canadian Studies, Nuzhat Jafri, Exec. Dir. of the Canadian Council of Muslim Women, Mohammed Hashim, Exec. Dir. of the Canadian Race Relations Foundation, Bob Watts, Truth and Reconciliation Commission of Canada, Stephen Brown Exec. Dir. of the National Council of Canadian Muslims, Charlene Bearhead, National Day for Healing and Reconciliation, Bruce Clemenger, President Emeritus of the Evangelical Fellowship of Canada, Rabbi Yael Splansky, Holy Blossom Temple, Toronto Board of Rabbis.
On the evening of May 8, Martin Luther University College's Inshallah Interfaith Choir under the direction of Dr. Debbie Lou Ludolph will lead conference participants in an arts-based interfaith workshop, designed as a space to hold in tension radically dissenting views.
Registration
Early Bird Special is $99 until Sun Mar 12, 2023. After Mar 12, 2023 $125.00.
Student Registration is $65 with proof of full-time registration.
Registration includes all plenary sessions and workshops, lunches on both days, access to the Conference app (available April 30) and the Monday evening workshop with the Inshallah Interfaith Choir.
Online Participation Registration is $65.00
Four plenary sessions will be made available for simultaneous viewing.
Meals
Light refreshments will be available before the morning sessions and throughout the day. Vegetarian lunches will be provided on both Monday May 8 and Tuesday May 9. Participants are invited to explore the numerous restaurants in Waterloo Square for supper prior to the evening concert on Monday, May 8: https://waterlootownsquare.com/
Accommodation
Overnight accommodation is available at Hotel Laurier www.wlu.ca/hotel (discounted student housing) and the Waterloo Delta Hotel https://www.marriott.com/en-us/hotels/ykfdw-delta-hotels-waterloo/overview/
Transportation
Air: Waterloo Regional Airport is serviced with regular flights from many cities in Canada on Flair and Westjet : www.waterlooairport.ca
Car: Waterloo is directly off the 401 highway, north on highway 8:
Rail: Regular train service between Toronto and Kitchener-Waterloo with Via Rail: https://www.viarail.ca/en/plan/train-schedules?searchByTrain=false&tsiDs=TRTO&tsiAs=KITC&tsiDate=2023-02-19
Parking
Limited parking is available on campus at a cost $12 a day. If you are staying at Hotel Laurier the parking is complimentary. Please indicate when making your hotel reservation if you need parking. The conference is meeting one block away from Hotel Laurier.
Further Questions?
For further information please to: https://www.interfaithconversation.ca/our-whole-societyor contact: Nitka Hazeri [email protected]
Online Participation
There will a limited opportunity to view four plenary sessions of the conference online, including the opening and closing sessions and two panel discussions at a cost of $65. This does not include all the plenary sessions or any of the workshops.
The Our Whole Society: Finding Common Ground in a Time of Polarization is the sixth edition of the Our Whole Society conference, which aims to foster a new dialogue about the changing role of religion in a pluralistic Canadian society. This year it is held in partnership with Martin Luther University College federated with Wilfird Laurier University. Previously held at McGill, Montreal (2013), University of British Columbia, Vancouver (2015), University of Ottawa, (2017), University of Toronto (2019), and online (2021 & 2022).
---
Location:
Wilfrid Laurier University
75 University Ave W
Waterloo , Ontario N2L 3C5 Canada
+ Google Map

---
More upcoming events