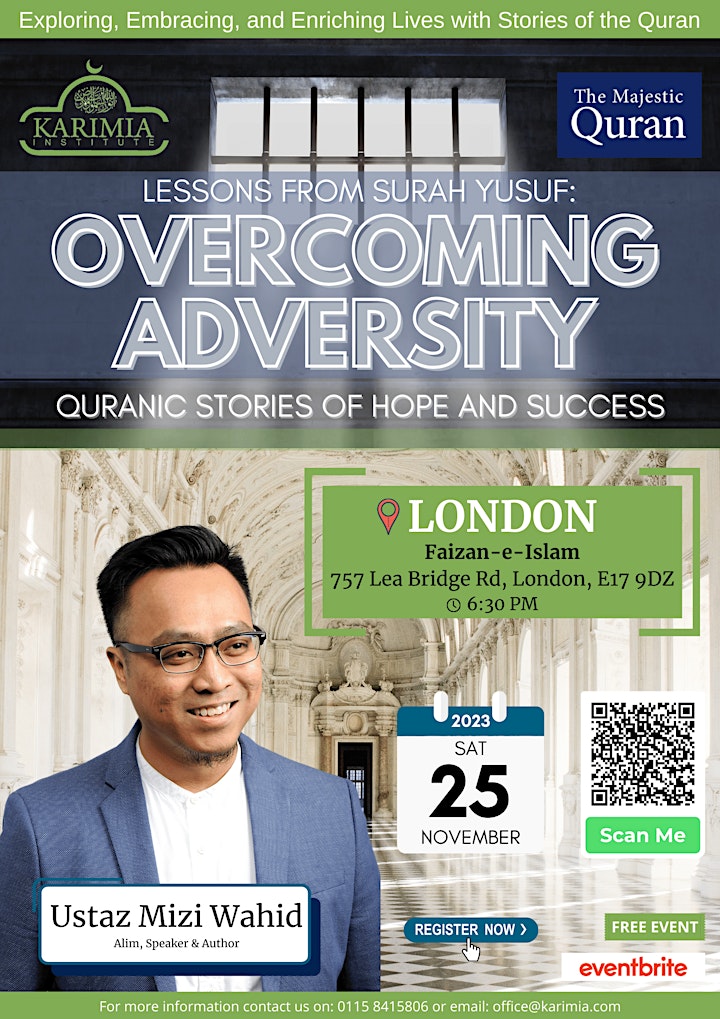 Description:
Delve into the timeless stories from the Quran as Ustaz Mizi Wahid unravels stories of trials, tribulations, and ultimate triumphs. 'Overcoming Adversity, Quranic Stories of Hope and Success' offers attendees a chance to derive lessons of hope, resilience, and success from Quranic narratives.
With Ustaz Mizi's profound insights, discover how revered figures like Prophet Yusuf overcame challenges with unwavering faith, and how these parables can inspire modern-day resilience and perseverance.
This event will be under the supervision of Shaykh Allama Ghulam Rabbani, Founder of Faizan-e-Islam and Chair of Faizan Sharia Council.
Who is Ustaz Mizi?
His full name is Muhammad Tarmizi Bin Abdul Wahid and he is the CEO of Safinah Institute, an Islamic education centre which was started in Singapore in 2009. It conducts Islamic courses in English for all age groups engaging the students with questions, sharings and discussions.
Ustaz Mizi is a graduate of Al-Azhar University (Egypt), majoring in Islamic Law. Upon graduation, he served at the Islamic Religious Council of Singapore in the Office of the Mufti department for two and a half years before embarking on an entrepreneurial journey. He has been featured on local television, interviewed on local radio stations and has also written numerous articles for various publications.
---
Location:
Faizan-e-Islam Mosque (Lea Bridge Rd)
757 Lea Bridge Road
London , E17 9DZ United Kingdom
+ Google Map

---
More upcoming events