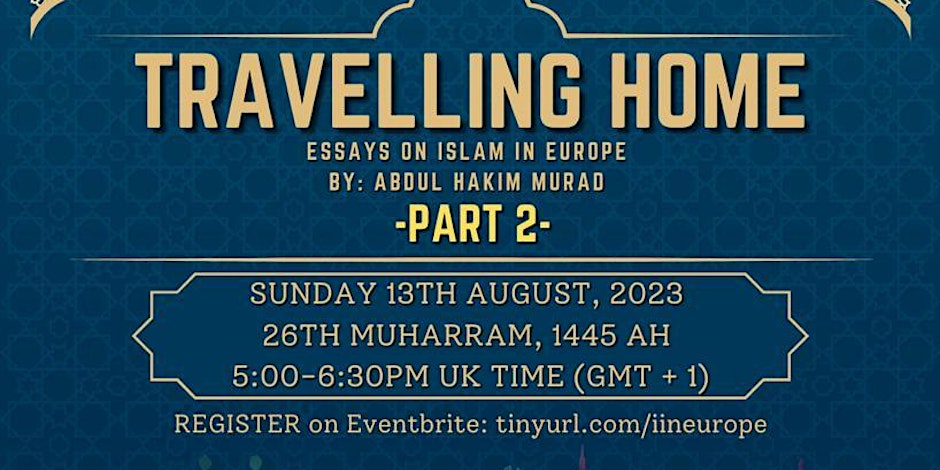 Description:
We will be continuing the discussion (part 2) of the following book :
📚:Travelling Home: Essays on Islam in Europe, by Abdul Hakim Murad
📆: Sunday, 13 August 2023 | Muharram 26, 1445 AH
🕰: 5 – 6:30pm UK
Travelling Home" by Abdal Hakim Murad offers a timely and balanced perspective on integrating Muslim communities into mainstream European society amid rising populist and anti-immigration sentiments. The book explores three key themes: Europe's increasing soullessness and fear of Islam, inappropriate responses from within Muslim communities, and the potential of "traditional Islam" to bridge the divide. Drawing on his extensive engagement with European Muslims, Murad enables readers to empathize with both sides and criticizes the loss of spirituality in the West and extremist reactions from political Islamists. He emphasizes the importance of Muslims practicing Islamic theology, encompassing patience, beauty, and forgiveness, to win over the majority society. The book acknowledges the broader sociological challenges faced by Christianity and contributes a unique Islamic theological perspective to the literature on Muslim integration in Europe.
The book's eleven essays can be grouped into three themes. The first four delve into the roots of Europe's hostile reaction to Islam, discussing the marginalization of religious commitment under liberalism, the rise of national populism, tensions faced by British Muslims, and the role of religious institutions in inter-religious tensions during the Bosnian War. These essays highlight the connection between populist sentiment against Muslims and the broader European experience of secularism. The subsequent four essays critique the inappropriate and reactionary responses of some Muslims, labeling it as "emotive anti-Westernism." Murad urges Muslims to embody beauty and reject anger as an effective means of securing a valued place in European society. Overall, the book provides insights into the challenges of Muslim integration in Europe, examining social and political dynamics through an Islamic theological lens.
Please register your attendance here, if interested in attending.
At The Croissant Club, we run one interactive session a month, where members collectively discuss books, podcasts and movies. These discussions are usually facilitated by 2 co-hosts. All new and old members welcome – come along to our next session below, if interested!
Please note: Feel free to switch on your cameras to create a more interactive atmosphere.
---
---
More upcoming events