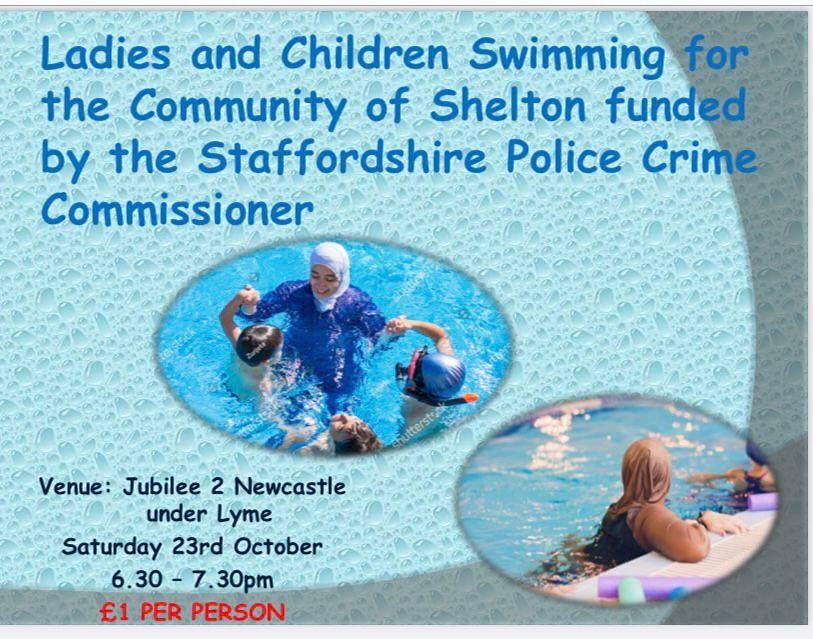 Description:
Twice a month Mums and children local to Shelton gather at Newcastle Jubilee swimming pool for swim club. The club is organized via a WhatsApp chat by Mum of four Hifsa Saddiq. This was Haifsa's vision; A swim club with a female lifeguard and blinded windows that would 'enable women and children of all ethnicities from the Shelton community to swim freely'. This vision became a reality when Hafsa took part in Shelton's Participatory Budgeting (PB) program. He was granted £2,600. This came from the pot of £20,000 provided by Staffordshire's Police and Crime Commissioner. Facilitated by MutualGain Ltd on behalf of Staffordshire Police, the PB program in Shelton was created following the community event 'Shelton Speaks'. From this event, it was concluded that there was a need to tackle series violence within the Shelton community. Inspector at Staffordshire Police overseeing a Neighbourhood Tasking Team (NTT), Scott Robson was instrumental in supporting MutualGain's facilitation of PB in Shelton. He worked closely with both MutualGain Ltd and Shelton community members to ensure the program ran smoothly. Scott has been a Police Officer for 18 years and holds a strong belief in the potential of community policing.
Throughout the course of this Virtual Cuppa, you will hear from both Scott and Hafsa. From hearing the experiences of both you will be able to gain an understanding of the PB process from both sides: The perspective of the Community member (Hafsa) and the perspective of the commissioning organization (Scott). What's more, this Cuppa will be hosted by MutualGain's very own Andrew Fisher who has delivered a number of police-led grant-funded PB projects in the UK and worked closely with both Scott and Hafsa on the Shelton program.
PB is a form of both community participation and direct democracy in which local members of a community are directly involved in the process of deciding how public money is spent. Done properly, PB involves real decision-making with, by, and for the public. The PB process functions when a fund is given from a local service provider (e.g. Council or Police Services) as the means to a greater end. For example, in Shelton where Hifsa's pitch for the women and children's swim club was chosen to be funded, funds were provided by the Police and Crime Commissioner towards the end of tackling serious violence within the Shelton community. Local Groups and Organisations then place bids on this fund. They do this by submitting a short video consisting of a pitch of their idea. These videos are then made accessible to the wider community who put to vote the projects being pitched to them. The winning pitches will be granted funds. The PB process in Shelton was however a little different; Taking place over the peak of the pandemic and in the midst of various lockdowns, the process Was one of the first virtual participatory budgeting events in the country. During which, 16 project ideas were presented before being voted on by the wider community. 9 projects were successfully chosen by the community of Shelton and these projects continue to benefit the area today.
Hifsa Saddiq describes herself as a 'community-minded person who is driven to get involved in what is going on in Shelton. It is so nice to meet someone who is clearly passionate about improving her local community for the benefit of all. In her initial PB bid, she described a swim club that would 'Bring people of any race or color together'. Indeed, Hifsa's swim club is Inclusive. The private pool with blinds and a female lifeguard allows Muslim women to swim modestly. Before the swim club, many ladies in her community did not have the opportunity to go swimming due to it not being private. This swim school is a big hit within the Shelton Community and the positive impact PB has had in Shelton remains obvious here.
A Staffordshire Police Police Inspector, Scott Robson has been a Police Officer for 18 years, having undertaken various roles including Response Policing, Investigations, Public Order, and in the main, Neighbourhood Policing. He currently oversees a force-wide Neighbourhood Tasking Team. However, is about to undertake a new role as the deputy commander, within the Staffordshire Moorlands. Neighbourhood Policing has become a passion of his, he first joined the force at 19 years old and in the years following 'began to understand the unique privilege of being a Police Officer in the United Kingdom'. Quoting Sir Robert Peel "The police are the public and the public are the police." he makes clear his community-orientated perspective on policing: 'we police with the consent and support of the public and communities in this country, which is something that we must ensure continues'. It was in the position of deputy commander at Stoke South, that Scott became aware of MutualGain Ltd and the success that they had achieved in other areas of the country. He believed that MutualGain Ltd could help the Neighbourhood team to engage in a different way with the community in Shelton. Scott describes his experience with the PB process;
'This unique and modern way of engaging with communities was a real eye-opener. We engaged with persons we had previously been unable to and altered the opinions of even the most suspicious attendees.'
---
---
More upcoming events