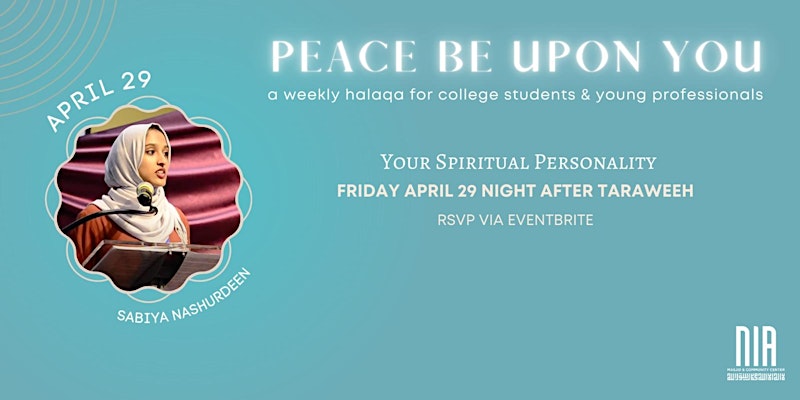 Description:
Your Spiritual Personality
Sabiya Nashurdeen is a speech-language pathologist, with a background in mental health and early childhood development. She is a preschool therapist in Long Island, NY. She spends her time exploring the implications of early relationships, faith, and mental health, especially for Muslim parents and children, often with a cup of tea in hand and a new recipe in mind for later.
"Peace Be Upon You" is a late-night event for young adults and professionals.
The space is a reflection of the intentional spiritual journey that we collectively share in Islam, and how we wish peace upon each other through our greeting Asalaamu Alaikum.
The topics discussed weekly, are themes that all of us encounter in life's journey. Each week will address ways to achieve a peaceful heart, mind, and soul in order to bring light into our lives.
Each event is followed by a spiritual discussion, snacks, and warm drinks iA.
For more information visit us at www.niamasjid.org
---
Location:
NIA Masjid & Community Center
231 Roseville Avenue
Newark , New Jersey 07107 United States
+ Google Map

---
More upcoming events