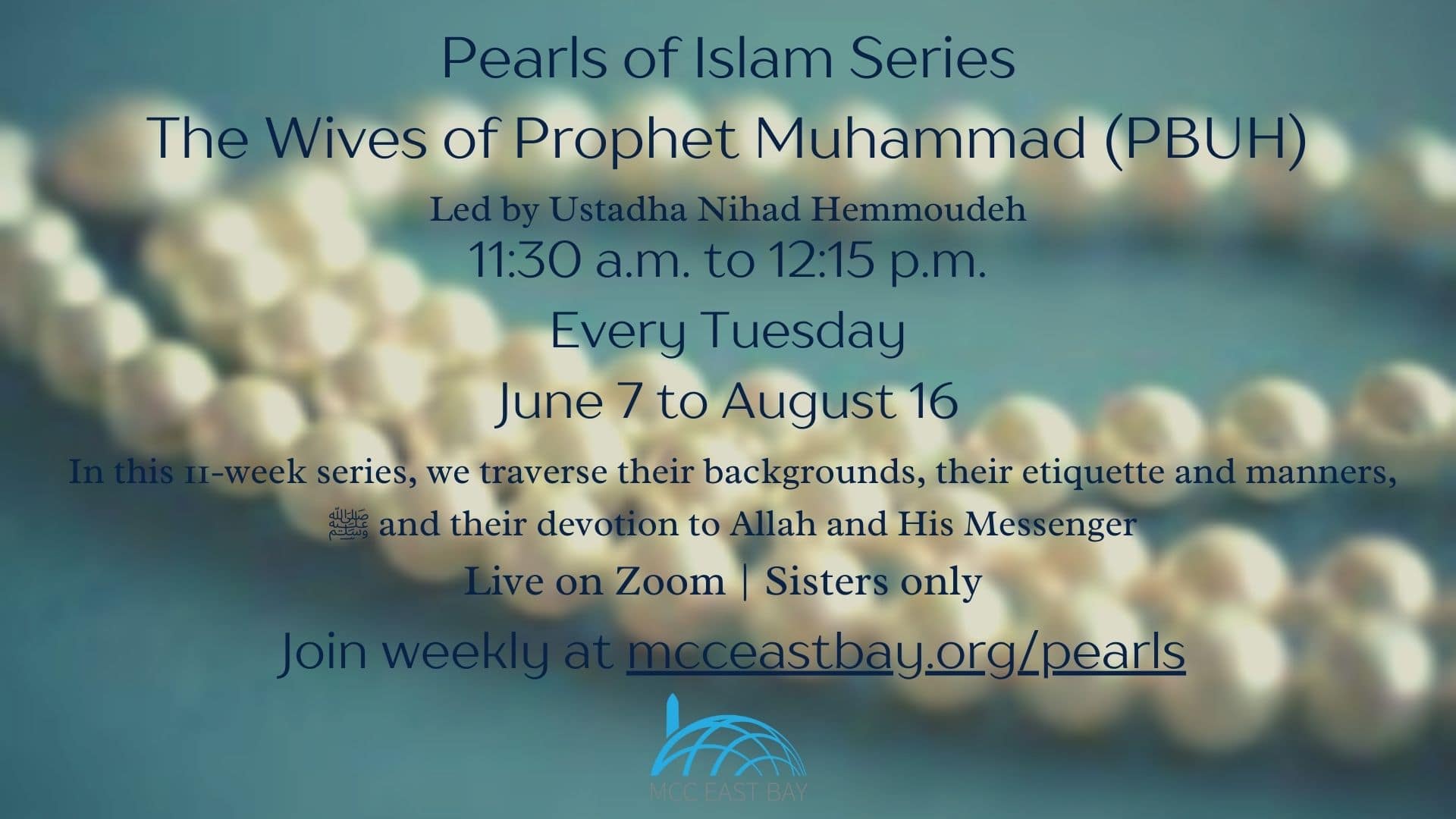 Description:
Ustadha Nihad Hemmoudeh facilitates a 45-minute live Zoom session for sisters (posted publicly the next day on MCC's YouTube, Facebook, and Instagram) about the wives of the Prophet (peace be upon him), who are the best generation of the Islamic nation, then and now.
11:30 a.m. to 12:15 p.m. | 11 consecutive weeks from Tuesday, June 7 to August 16 | No pre-registration needed | Join live on Zoom at https://mcceastbay.org/pearls
**Session extended till August 16, on Tuesdays.
In this 11-week series, we traverse their backgrounds, their etiquette and manners, and their devotion to Allah and His Messenger ﷺ.
The weekly live session is for sisters only. Boys & girls ages 8 to 14 are welcome to join. Join the live session at 11:30 a.m. each Tuesday at https://mcceastbay.org/pearls
Questions? [email protected]
This series looks at the Mothers of the Believers in a way to enlighten the hearts, minds, and souls of the Muslims in the West. It is through the wonderful examples of the lives of the wives that we can achieve a correct and balanced understanding when approaching issues such as building the Islamic family, social life, working, parenting, and raising children.
---
Location:
Muslim Community Center - East Bay (MCC East Bay)
5724 W Las Positas Blvd #300
Pleasanton , California 94588 United States
+ Google Map

---
More upcoming events