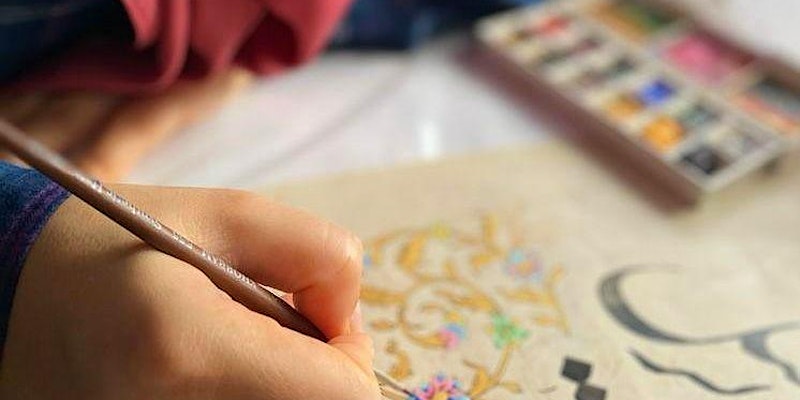 Description:
Experience Persian/Islamic art painting in an art therapy session with me. You will enjoy the experience of small Persia.
WHAT IS PERSIAN ART?
Tazhib (or tezhip in Turkish), is an Arabic word derived from "zahab" meaning "gold". Tazhib is the art of painting arabesque and floral design with gouache, watercolor, and crushed gold. The art of Tazhib (gilding or illumination) is the manifestation of Iranian Nature-oriented spirits. The breadth of the climate and diversity of plant species in the country along with their abstract look has led to the creation of this delicate art.
WHAT IS INCLUDED IN THE PRICE?
All the necessary tools are included in the price. You don't need to have anything with you.
Persian special drinks and sweets are also included in the price.
You will enjoy experiencing small Persia (Persian music, atmosphere, drink, and sweet while painting).
INFORMATION ABOUT THE EXPERIENCE
To my experience, tazhib is a type of Meditation best defined as a practice to focus one's mind on an activity (here; tazhib), to achieve a mentally clear and emotionally calm state. The simultaneous focus of both mind and hands-on activity that is very miniature and sensitive, makes our soul float in a world created by the mind and heart. Painting tazhib is a good chance to make our soul travel to wherever we wish, like a secret garden that no one has ever stepped into as if God has granted us the chance to create our own unique garden!
Moreover, the architecture and painting patterns of the gardens created in Persian painting have a definite traditional and symbolic character. This garden serves as a 'reminder' and 'copy' of Heaven, so it is the terrestrial image of the celestial garden of paradise. The tazhib artwork is also inspired by order and unity in the physical world (nature).
The art of tazhib creates an atmosphere for the observers to make their imagination fly in a serene and peaceful world, away from the chaotic material life.
You will enjoy experiencing small Persia (Persian music, atmosphere, drink, and sweet while painting).
NOTE: Your reservation will serve as a booking request that needs to be accepted by the host. A confirmation email will be sent once the request was approved. Feel free to reach out to Maryam with any questions.
---
Location:
Avenue Macdonald
Avenue Macdonald
Hampstead , H3X Canada
+ Google Map

---
More upcoming events