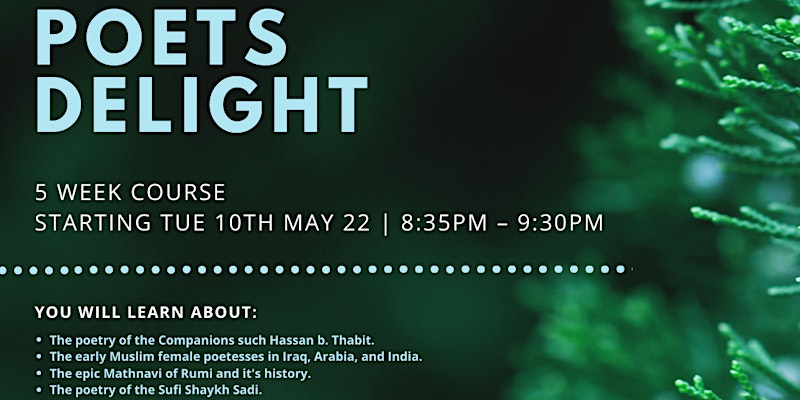 Description:
10 week course taking place once a week on Tuesdays, this course is open to both males and females.
Whether it's Islamic or from other cultures, poetry is one of the most effective ways to tell the world how you feel. Since the beginning of Islam, Muslims have been casting poetry about Allah and His Messenger (peace be upon him), the Quran, divine love, and beliefs. In this unit, you will explore the rich poetic tradition of the Companions, Sufi masters, and Muslim writers, from across the last 1400 years. So join this unit if you want to for in love with Allah and the Beloved Prophet (peace be upon him).
Unit Aims:
Understanding the importance of poetry according to the Prophet Muhammad (peace be upon him)
Exploring the Arabic and Persian poetry of the Sufi poets such as Rumi, Shirazi, and Sadi.
Understanding the intimate relationship between humans and Allah, through the lens of poetry.
What will I learn?
You will about:
The poetry of the Companions such Hassan b. Thabit.
The early Muslim female poetesses in Iraq, Arabia, and India.
The epic Mathnavi of Rumi and its history.
The poetry of the Sufi Shaykh Sadi.
How to express yourself in poetic form.
and so much more.
10th May 2022 – 7th June 2022
Open to all
Ages 14+
From £20
Full course material included
Limited places
Taught by experienced instructors
---
Location:
Guidance Hub
389 Waterloo Road
Manchester , M8 9AB United Kingdom
+ Google Map

---
More upcoming events