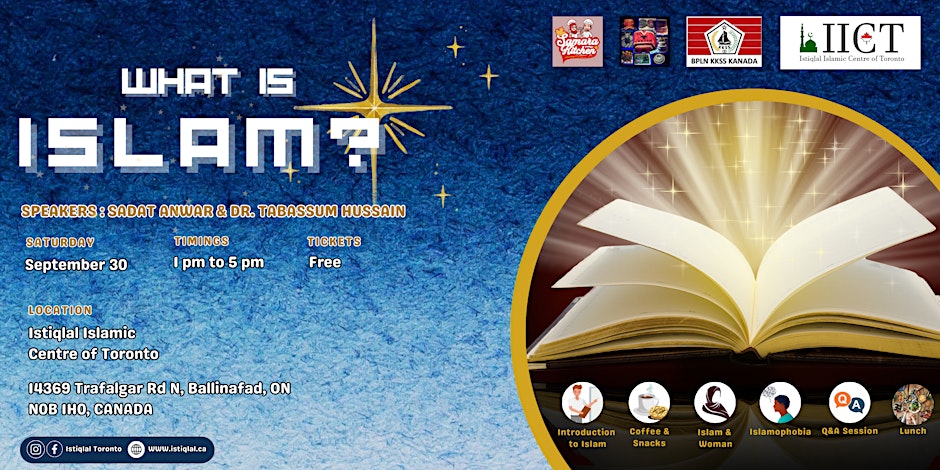 Description:
Presentation on Islam
Date: Sat Sep 30 2023
Time: 12:30 PM (EDT)
Location: 14369 Trafalgar Road, Halton Hills, ON N0B 1H0
Join us for a captivating Presentation on Islam in George town, Halton Hills, Ontario! This in-person event will take place on Saturday, September 30, 2023 at 12:30 PM. Come and explore the rich and diverse aspects of Islam in a relaxed and friendly atmosphere.
Our knowledgeable speakers will delve into various topics such as the history, beliefs, and practices of Islam. They will provide insights into the Islamic faith, shedding light on its core principles and dispelling common misconceptions. Through interactive discussions and multimedia presentations, you will gain valuable insights into the diverse aspects of Islam.
This is a fantastic opportunity to provide you a deeper understanding of the Islamic faith and its cultural heritage, ask questions, and engage in meaningful discussions. Whether you are curious about the religion or simply interested in learning more, this presentation guarantees an informative and enjoyable experience, as well as the opportunity to converse with other attendees.
Don't miss out on this unique chance to gain invaluable knowledge about Islam. Mark your calendars and be prepared for an enlightening afternoon! We look forward to welcoming you to our Presentation on Islam event.
At the conclusion of the event, refreshments, snacks, lunch/dinner will be provided for free to those who present their ticket.
---
Location:
IICT - Istiqlal Islamic Centre
14369 Trafalgar Road
Halton Hills , Ontario N0B 1H0 Canada
+ Google Map

---
More upcoming events