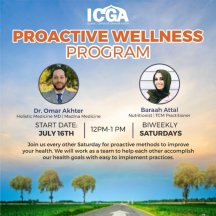 Description:
Proactive Wellness Program – with Dr. Omar Akhter and Nutritionist Baraah Attal
October 22nd Session:
HORMONE HARMONY
How to support male and female hormone health: a discussion around diet. lifestyle and a holistic approach.
Hormones are all the rage in the health scene lately. Come join us on Saturday to figure out how to make meaningful improvements on staying balanced and healthy.
——————————————-
September 24 Special Workshop:
Mental Health Check: The Road to Balancing it All
With Special Guests: Child Psychiatrist Dr. Ayesha Shaheryar and Life Coach Lama Aboubakr
Come learn what steps you can today to bring your health back on track!  Our program leads will take a holistic approach to health and wellness.
Every other Saturday from 12 pm to 1 pm, starting July 16th, Dr. Omar and TCM practitioner and Nutritionist Baraah Attal will discuss proactive ways to improve your health. We will work as a team to help each other accomplish our health goals with easy to implement practices.  While the healthcare professionals, cannot address personal health concerns, they can help us tackle your obstacles.  We can troubleshoot together to see how to move toward a healthier lifestyle.
Expected Topics:
Nutrition and Diet
Healthy Sleep
Movement and Exercise
Stress Management
Mental Health
Gut Health
SO much more

Our bodies are a trust from Allah subhanahu wa ta'ala through which we serve Him.
Find the best ways to care for yourself, so you can feel your best and serve your Lord completely.

About Dr. Omar Akhter:
I grew up in my native country of Pakistan in a family of physicians. I had many early exposures to the world of medicine. I followed the same path and graduated from Medical School in Pakistan before going on to complete residency in Internal Medicine in New York City. I then practiced hospital medicine for a few years in a large hospital system in New Jersey before eventually settling in Austin, TX as a functional medicine doctor with my wife and young son. Working in these different systems gave me an excellent understanding of and exposure to our healthcare system. I now bring my experience to the world of Functional Medicine. As a functional medicine doctor in Austin, TX, I am passionate about serving my community and improving the health of my patients by bringing them affordable, accessible, and high-quality holistic care. 
About TCM Practitioner and Nutritonist Baraah Attal:
Baraah is Traditional Chinese Medicine practitioner. Baraah graduated from AOMA Graduate School of Integrative Medicine with her Masters degree and is currently pursuing her Doctorate from Pacific College of Health and Science with a focus in Acupuncture and Chinese Medicine. She uses holistic and traditional approaches combined with modern medicine to help patients achieve their fullest health potential. Baraah also loves being involved in the teaching capacity and has taught a number of nutrition classes. This stems from her Bachelors degree in Human Nutrition and Foods. Her passion and current approach is to help bridge the gap between Eastern and Western medicine and provide the best care for her patients.

---
Location:
Masjid Khadijah
5110 Manor Rd
Austin , Texas 78723 United States
+ Google Map

---
More upcoming events